3 Chip Stocks to Note Now: Nvidia's Hope Lies With Microsoft, Qualcomm Hands Over Indian Assets, and Intel's Bay Trail Monster
Nvidia (NASDAQ:NVDA): With game consoles now running hardware from other sources, Nvidia's Tegra line of processors has been seeing less action, and is now picked up mainly in mid-range to high-end tablets, as manufacturers have turned to Chinese or Taiwanese companies to supply the needed processors. However, Microsoft's (NASDAQ:MSFT) next line of Surface tablets could be the hope Nvidia needs to revive the Tegra chip set: the Surface is expected to grow beyond the RT or Pro trims available now, offering a much larger marketing opportunity for Nvidia — if it winds up supplying the internals.

Qualcomm (NASDAQ:QCOM): Bharti Airtel has taken over a controlling stake in Qualcomm's Indian broadband units, following the purchase of an additional 2 percent stake in the business. Indian telecom operators — like Bharti — are turning to broadband services to drive revenue growth. Qualcomm paid more than $1 billion for securing the spectrum and licenses to operate in Mumbai and Delhi.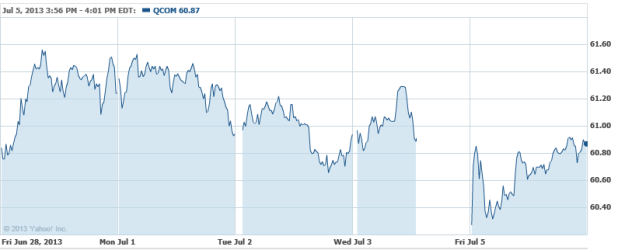 Intel (NASDAQ:INTC): Intel's Bay Trail benchmark results have surfaced online, and it clocked at 1.1GHz, or 30 percent faster than Qualcomm's Snapdragon 800 which clocked at 2.3GHz and is the fastest ARM chip on the market. So, great news for x86 fans, but not so hot for ARM enthusiasts. The chip hit 1.1 GHz while running Android 4.2.2 Jelly Bean, amassing a score of 43,416, compared to the Snapdragon's score of just under 30,000. Bay Trail-T is Intel's upcoming 22nm tablet-oriented SoC with four Silvermont cores, due out sometime this year (probably fall).