3 Chip Stocks to Note Now: Qualcomm Reaches the Masses, Intel's New Atom, and ARM is Ready to Flex
Qualcomm (NASDAQ:QCOM): In efforts to make its name more ubiquitous with consumers, Qualcomm is launching a new marketing campaign to spread the word about its Snapdragon processors, and to give itself a more Intel (NASDAQ:INTC)-like brand identity. The company will be launching a TV ad in hopes of forming a closer emotional bond with consumers, and to urge them to choose Qualcomm-powered smartphones in an exceptionally competitive market.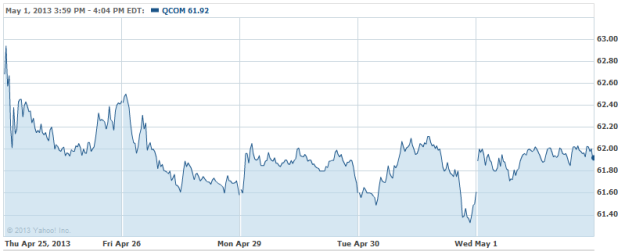 Intel (NASDAQ:INTC): Microsoft's (NASDAQ:MSFT) Surface tablets running Windows 8, which has grabbed over 7 percent of the tablet market in under six months, will be getting another boost, this time in the form of new hardware, courtesy of Intel. The chip giant is set to release a revitalized Atom processor, the first redesign the Atom has undergone since its release five years ago. Windows tablets will bea able to multi-task better with the new chip, and with no detriment to the battery life.
ARM Holdings Plc. (NASDAQ:ARMH): Canaccord believes that ARM's processor share along with its royalty rates will rise, as it reiterated a Buy rating of the company, with a $52 price target. Canaccord analyst Matthew Ramsay said that the company "is well positioned to hold dominant processor market share within the growing smartphone and tablet markets while benefitting from royalty rate expansion due to increased Cortex-A penetration, Mali graphics attach rates, and secular trends toward chipset integration."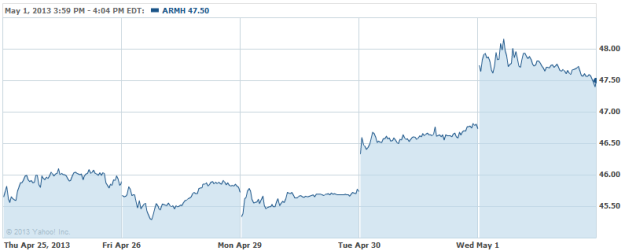 Investing Insights: Is Seagate a Sensible Investment?