3 Chip Stocks to Note Now: Qualcomm's Earnings May Drop, AMD's Server Utilized, Valve Showcases Nvidia
Qualcomm Corp. (NASDAQ:QCOM): Bank of America Merrill Lynch has downgraded Qualcomm to Neutral from Buy based on expectations that revenue and earnings growth will sharply decelerate over the next two years, presumably due to a peak in royalty revenues and possibly a decline in absolute terms over the next five years. Analyst Tal Liani sees it falling to just 10 percent in 2015, from 32 percent in 2013, as well as a mix shift toward emerging markets and white-label sales.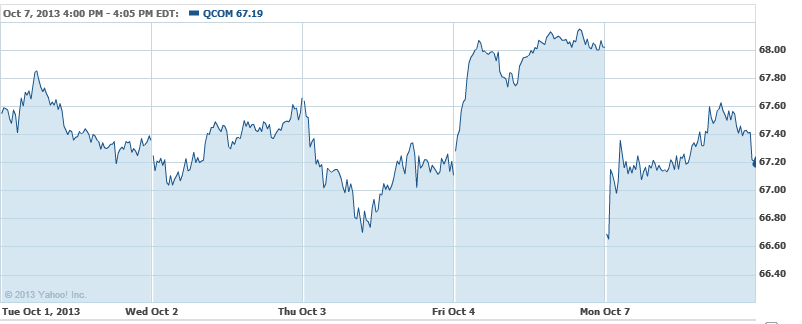 Advanced Micro Devices (NYSE:AMD): AMD's SeaMicro SM15,000 server will be put to good use in Verizon's (NYSE:VZ) latest cloud infrastructure platform. Among the advantages of the server are its capacity to pack 256 CPUs as well as its support of a modular architecture that allows for upgrades to be made on different resources independently of each other.

Nvidia Corp. (NASDAQ:NVDA): Nvidia's GTX graphics processing unit is being showcased by Valve in its series of Steam Machines, a living room computing experience designed for gamers. This is just the latest result of the partnership between the two companies, which goes back 10 years and has allowed Valve to champion graphics of the highest level while providing Nvidia a secure market for its products.

Don't Miss: Microsoft: Our Surface 2 Tablets Have Nearly Sold Out.