3 Chip Stocks to Note Now: Qualcomm's Forecasts May Rise, Taiwan Semiconductor's New Leadership, Intel's Educational Acquisition
Qualcomm Inc. (NASDAQ:QCOM): Goldman Sachs is adding Qualcomm back to its Conviction Buy list after removing the chipmaker in March. Goldman analyst Simona Jankowski notes that Qualcomm is only up 11 percent on the year, while the S&P is up some 24 percent; she keeps an $80 price target on the stock, citing her belief that multiple compression is over, and forecasts that chip division margins will rise by 400-plus bps over the next four quarters.

Taiwan Semiconductor Manufacturing Co. (NYSE:TSM): Mark Liu and C.C. Wei — until now Taiwan Semiconductor's chief operating officers – will both replace Morris Chang as CEO, becoming the chip maker's co-CEOs. Chang, who is 82 years old, initially said he would step down as CEO in July of next year, and will remain on as chairman.

Intel Corp. (NASDAQ:INTC): Earlier this week, Intel announced that it would be acquiring Kno, the maker of e-textbooks for interactive devices like computers and tablets. The move represents Intel's latest expansion into the sector of mobile devices, where the chip manufacturer has lately not shown the strength of some of its competitors. In addition, Kno represents good publicity for Intel because it provides educational resources for underserved children.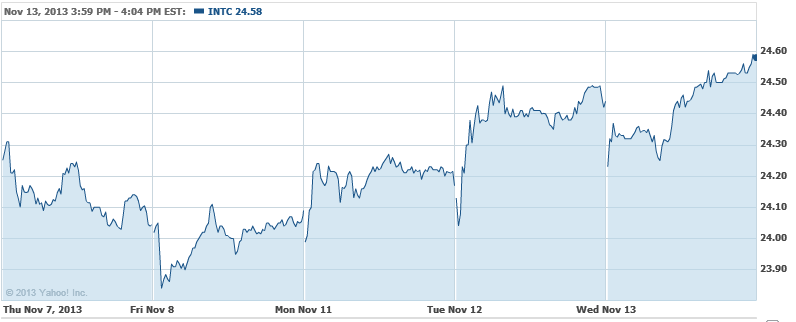 Don't Miss: Employee Evaluations: Microsoft's Most Destructive Force?