3 Chip Stocks to Note Now: Qualcomm's Growth Potential, Intel's Cheaper Processors, AMD's Expected Profits
Qualcomm Corp. (NASDAQ:QCOM): Stifel's Sanjiv Wadhwani initiated coverage of Qualcomm's stock with a Buy rating on Tuesday, with an $80 price target. "Qualcomm's high-margin, cash-generating licensing business looks to continue to grow in the coming years with 4G LTE rollouts, including at the world's largest carrier — China Mobile, which should provide a nice tailwind to the licensing business in 2014," Wadhwani explained.

Intel (NASDAQ:INTC): Intel is expected to release a new, cheaper version of its BayTrail processor for mobile devices, presumably sometime in the second quarter of 2014. The new processors are expected to be priced at $15-$20 as opposed to the current BayTrail-T processor that is priced at $32-$37. Intel's stock is currently up, and the new, cheaper processors are expected to help better position the company amongst the competition.
Advanced Micro Devices (NYSE:AMD): AMD is expected to report profits later this week when the company releases its third quarter results. They are anticipating "a profit of two cents a share after the company took a loss of 20 cents per share a year ago." The predictions come after an arduous previous four quarters for the company, which saw continuing declines. For the fiscal year, analysts are expecting a loss of 14 cents a share, although revenue is predicted to eclipse the year-earlier total of $1.27 billion by 12 percent, and total revenue for the year is forecasted to amount to $5.19 billion.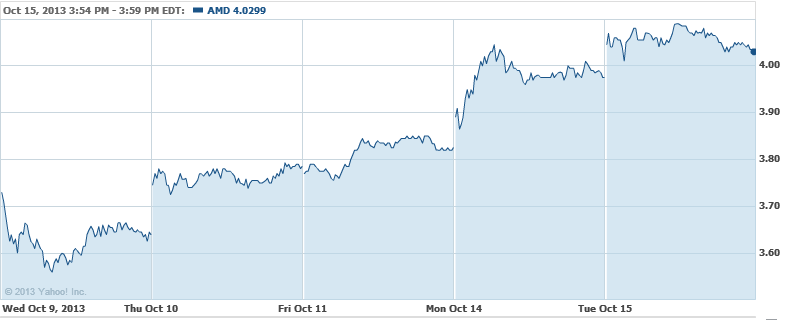 Don't Miss: Here's Why This Analyst Raised the Price Target on Apple.