3 Chip Stocks to Note Now: Qualcomm's Solid Quarter, Nvidia's New Graphics Beast, AMD's R9 Holds Its Own
Qualcomm Corp. (NASDAQ:QCOM): Qualcomm shares have opened lower as the chipmaker reports earnings per share of $1.05, which missed by 3 cents, and $6.48 billion beat, by $130 million. Sales grew 42 percent in the chip division to $4.46 billion over the year prior; for royalties, sales surged 19 percent, to $1.87 billion, though the latter's EBT profit of $1.62 billion remains much larger than the chip division's $702 million. Research and development spending grew 23 percent year-on-year, down from the third quarter's 36 percent swell. SG&A expenses grew 11 percent, down from the third quarter's 19 percent.

Nvidia Corp. (NASDAQ:NVDA): Hoping to steal some spotlight from fellow graphics powerhouse AMD, Nvidia on Thursday revealed its new, $700 GTX780 Ti, which offers the guts of the GTX Titan in a more affordable package. Built from Nvidia's high-end GK110 graphics processing unit, the GTX780 Ti features an 875MHz core clock, 3GB of memory, "and more ROPS, TMUs, and CUDA cores than you can shake a stick at," PCWorld reports.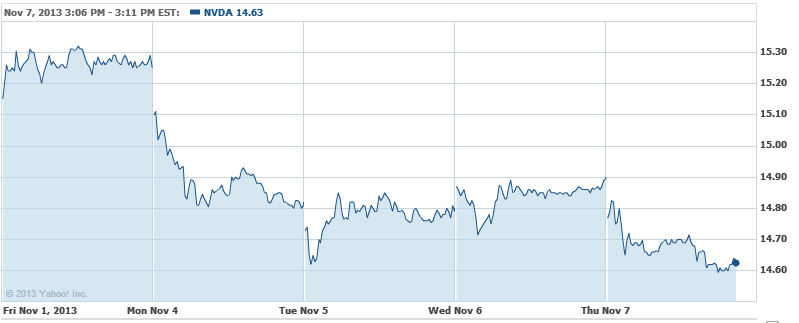 Advanced Micro Devices (NYSE:AMD): While Nvidia is flaunting the performance of its new GTX, AMD's Radeon R9 290 has gotten benchmarked. The result? "A mid-range monster," MaximumPC says. At $400, the Radeon is cheaper than its competition, and, overall, "the R9 290X exceeded the GTX 780′s performance while costing $100 less, so that is a clear-cut victory for AMD."

Investing Insights: Is Microsoft a Buy At These Prices?