3 Chip Stocks to Note Now: TSMC Eyes Strong Growth, Qualcomm Makes Up In Mid-Range, and AMD Beats Intel
Taiwan Semiconductor Manufacturing (NYSE:TSM): "I don't feel that the growth of the global smartphone and tablet market is slowing down," Chairman Morris Chang explained, referring to the company's expectations of increasing demand for chips used in mobile devices to help the company achieve record earnings in 2013. However, not all markets are created equal. Some are predicted to slow, but for others such as China, "the growth still exceeds ours and the market's expectations."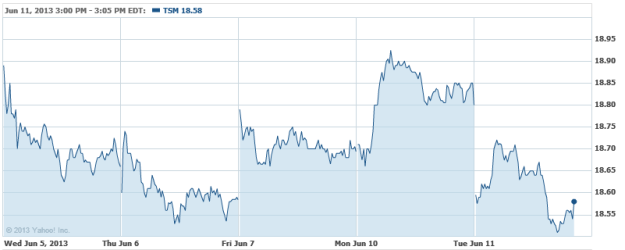 Qualcomm (NASDAQ:QCOM): Morgan Stanley says that the slower than expected Samsung Galaxy S4 ramp is being offset by its mid-range smartphone performance — where Qualcomm has more share — and believes that Qualcomm's quarter is on track and that shares can move higher over the summer as fears abate. It rates the shares at Overweight.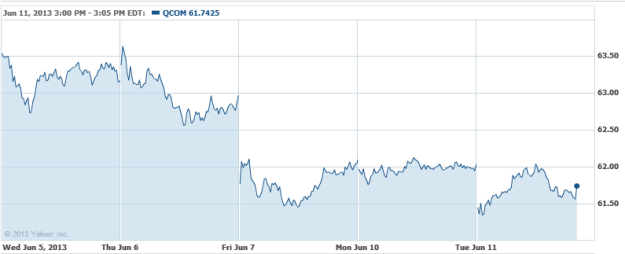 AMD (NYSE:AMD): Although both AMD and Intel (NASDAQ:INTC) have recently landed huge contracts — AMD is powering both the Xbox One and the PS4, Intel's Haswell is the beating heart of the Macbook Air models — AMD has beaten Intel in the race to a 5 GHz processor, which it revealed on Tuesday. "The new FX 5GHz processor is an emphatic performance statement to the most demanding gamers seeking ultra-high resolution experiences including AMD Eyefinity technology. This is another proud innovation for AMD in delivering the world's first commercially available 5GHz processor," said Bernd Lienhard, corporate vice president and general manager, Client Products Division at AMD.

Don't Miss: Next-Gen Gaming Consoles Arrive: Sony Undercuts Microsoft.