3 Consumer Stock Stories Buzzing Along Today
Green Mountain Coffee Roasters Inc. (NASDAQ:GMCR): Closing price $63.02
Share of Green Mountain may have been downgraded at Argus from Buy to Hold, but the stock closed up 0.58 percent at $62.95. Earlier Thursday, Argus analyst John Staszak sent a note to investors saying that Green Mountain is facing growing competition as several big companies, like Whole Foods and Kraft, are selling coffee for Keurig systems, also known as K-cups, at relatively low prices. The heightened rivalry will probably cut into Green Mountain's revenue, argued Staszak.
Wal-Mart Stores Inc. (NYSE:WMT): Closing price $76.43
At a press event in Beijing on Thursday, Wal-Mart announced that it is expanding its China business while it tries to raise profitability in a slowing retail sector. The giant retailer will launch as many as 110 facilities in China between 2014 and 2016, in addition to the 30 it has already opened in 2013. Chief Executive of Wal-Mart China Greg Foran said that the company has closed 11 stores and will close between 15 and 30 others over the next 18 months, in what he referred to as part of a rationalization process.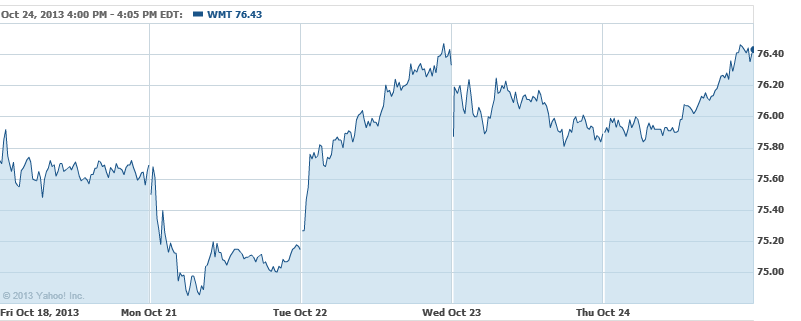 Toyota Motor Corp. (NYSE:TM): Closing price $129.87
Evidence is mounting that the average American consumer is not sufficiently sold on electric vehicles and plug-in hybrids to pay the sort of prices automakers want until gasoline becomes much more expensive, which would make the costly tech more economical. Last week, Toyota reported that it is cutting the price of its 2014 Prius plug-in hybrid by between $2,000 and $4,000, depending upon the model. The most advanced version begins at $35,000, with the lower-price model under $30,000.

Don't Miss: Wal-Mart China Expands On the Ground and Over the Web.