3 Consumer Stock Stories for Exciting Tuesday Investment Shopping
Burger King Worldwide Inc. (NYSE:BKW): Closing price $21.15
Having posted a better-than-anticipated third-quarter profit, Burger King on Monday said it will not introduce as many seasonal and limited-time menu items in an attempt to help restaurant operators improve their profits and quicken service. The company has recently added a series of attention-grabbing products including bacon sundaes and a summer BBQ menu to low-fat "Satisfries" french fries, which are now a permanent menu item. Chief Executive Daniel Schwartz said on a conference call with analysts that Burger King is currently "focused on introducing fewer, more impactful products. A good example of this is the recent launch of Satisfries."

Macy's Inc. (NYSE:M): Closing price $46.12
On Tuesday, New York Attorney general Eric Schneiderman launched an inquiry into retailers Macy's Inc. and Barneys New York Inc., at which African American customers complained that they were stopped by police after making luxury purchases. New York City's tabloids have dubbed the practice "shop and frisk," which spoofs the controversial New York police crime-fighting tactic "stop and frisk," which opponents say amounts to racial profiling. Schneiderman gave the two chains until Friday to surrender information regarding their policies for detaining and questioning customers based on race. But both department stores deny any involvement in three of the four incidents that have sparked a firestorm.

Toyota Motor Corp. (NYSE:TM): Closing price $128.95
Consumer Reports magazine has removed its prized recommendation of the Toyota Camry family sedan, which is the top-selling passenger car in America, due to the car's performance in an Insurance Institute for Highway Safety crash test, in which the Camry earned a rating of Poor in the Institute's "small overlap" crash test. A number of vehicles have not done well in this new test. In it, a car traveling at 40 miles per hour strikes a crash barrier with only a small portion of the front bumper on the driver's side. Analysts call it a tough test because it concentrates impact forces into an area, which is often outside metal crash-absorbing structures that are built into many new cars.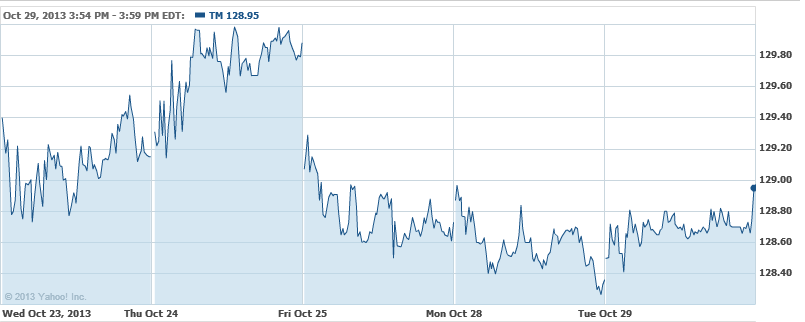 Don't Miss: Why Selling Luxury Paper Towels Is Working for Proctor & Gamble.