3 Consumer Stock Stories For Savvy Midweek Investment Shopping
The Hertz Corporation (NYSE:HTZ): Closing price $24.91
Hertz is re-designing, updating and unveiling its locations on a global basis, while it continues to streamline the rental experience and enhance the manner in which consumers rent cars. The transformed locations are a complete reimagining of what a car rental location and experience should be, as Hertz unveils Road Trip by Hertz, which are retail stations located on-site that permit travelers to access anything they would require for business or leisurely travel. Travelers may now enjoy concierge style service inside Hertz's facilities, via a streamlined rental experience that removes the need to wait in line, have access to an an iPad station for exploring local area information, and to recharge their mobile devices, and can utilize printing and FedEx services on-site, which contribute value to the experience, making it faster and easier.
Are these stocks a buy or sell? Let us help you decide.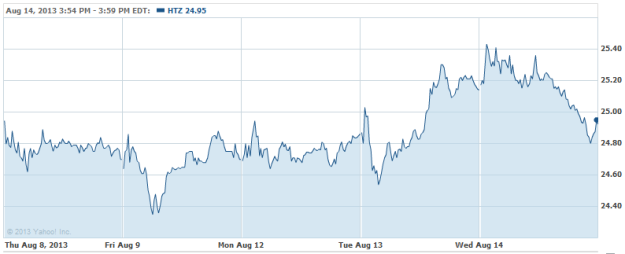 General Motors Co. (NYSE:GM): Closing price $35.57
The United States Treasury continues to sell off its shares in General Motors, following its promise last December that it would fully divest from its position in GM within 12 to 15 months. The Treasury received aggregate net proceeds of roughly $877 million from sales of GM common stock in July, according to the department's monthly report to Congress. The United States and Canadian governments ultimately financed GM's bankruptcy reorganization in 2009. Canada has also has initiated the process of divesting its share of the firm.
Are these stocks a buy or sell? Let us help you decide. Check out our Stock Picker Newsletter now.

RadioShack Corp. (NYSE:RSH): Closing price $2.77
Two inside sources say that RadioShack wants to refinance its debt by obtaining new, lower-cost loans — a process it would prefer to finish by the end of 2013. The electronics chain's shares have tumbled while sales slumped during the past year, but RadioShack believes it can avert a restructuring if it can repay current lenders, including Bank of America and Wells Fargo, and get more favorable borrowing terms from new lenders, according to the sources, who added that the process is in its early stages, and so far no deals have been proposed. The persons also related that it is possible lenders such as Wells Fargo and Bank of America could provide new loans, but third parties like GE Capital Corp, which typically does large asset-based lending deals, could become involved.
Are these stocks a buy or sell? Let us help you decide. Check out our Stock Picker Newsletter now.