3 Consumer Stock Stories Making Monday Headlines
Macy's Inc. (NYSE:M): Closing price $42.61
Macy's employees at certain Chicagoland stores said Sunday that the iconic department store will break a 155 year tradition of staying closed on Thanksgiving Day this year by opening at 8 p.m. on that day. The store will remain open for 24 consecutive hours, said five employees at Macy's flagship store at 111 North State Street. Each of them reported that their bosses had told them to be ready to work that night. One employee said she received a memo Thursday affirming the store would open on Thanksgiving at 8 p.m.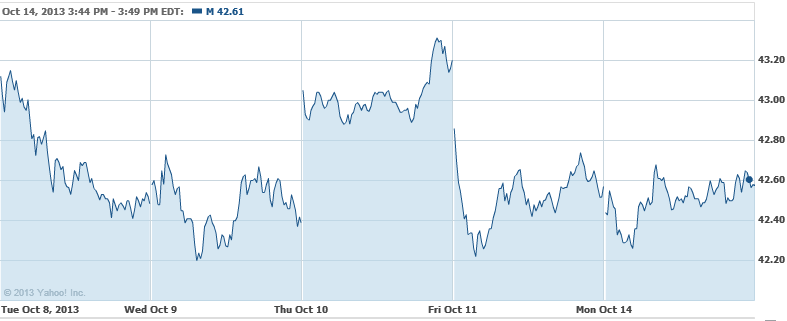 Canadian National Railway Co. (NYSE:CNI): Closing price $105.18
The Teamsters Canada Rail Conference said Monday that talks between the railroad workers' union and Canadian National railway have collapsed, raising the possibility of a strike or a lockout by October 28 at that country's biggest railroad operator. The Conference represents roughly 3,300 conductors, trainmen, yardmen, and traffic coordinators, and said that the company turned down the union's offer to extend conciliation talks that ended on October 7. Union spokesman Roland Hackl said in a statement, "We're extremely disappointed by CN's refusal to extend the mediation period."

General Motors Co. (NYSE:GM): Closing price $35.31
GM is discretely raising sticker prices for its all-new 2014 Chevrolet Silverado and GMC Sierra pickups. Since their intro this summer, prices are up close to $2,100. The most recent rise of $1,500 on all trim models, which was effective Monday, formed part of a routine and planned pricing adjustment, said GM spokesman Jim Cain on Friday that, "We're executing the next phase of our launch strategy now that we have all three body styles and the V-6 and V-8 powertrains in the market."

Don't Miss: CVS Moves Its Deals Online.