3 Dow Industrial Stocks Wobble This Week
United Technologies Corporation (NYSE:UTX): Current price $92.64
Pall Corporation (NYSE:PLL) reported that its board of directors will name Akhil Johri as its chief financial officer, effective May 1. Johri currently serves as vice president of finance and CFO for United Technologies Corporation's Propulsion & Aerospace Systems group, which is a $27-billion division consisting of the industry majors Pratt & Whitney and UTC Aerospace Systems. Pall President and Chief executive Larry Kingsley, who was recently appointed interim CFO, will continue in that role until Johri officially moves to Pall.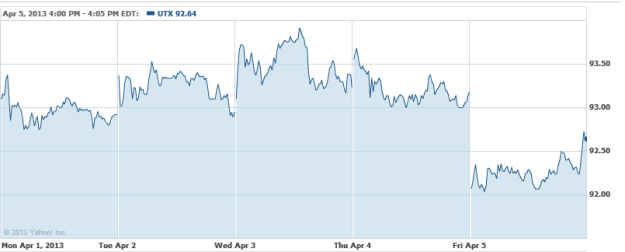 The Boeing Company (NYSE:BA): Current price $86.18
The Seattle Times reports that Boeing postponed a 787 Dreamliner test flight that had been set for Saturday, although the reason was not given.
According to Reuters, All Nippon Airways, which is Boeing's biggest customer for the grounded 787 Dreamliner, will put its pilots through training so as to resume flights in June, say sources, after Boeing completed more than half of its tests to get its new battery system certified.

General Electric (NYSE:GE): Current price $22.93
The financial services division of GE consulted with Dell (NASDAQ:DELL) about acquiring its financing operation, but the talks did not lead to a deal, says The Wall Street Journal.
Synthesis Energy (NASDAQ:SYMX) and GE's subsidiary GE Packaged Power will jointly evaluate and market a small scale power generation unit combining SES' gasification tech with GE's aeroderivative gas turbines. This application marketing accord will concentrate upon regions of the world where conversion of non-conventional feedstock sources like lignite and coal wastes into synthesis gas fuel via SES' tech could be advantaged over conventional gas turbine fuel sources such as natural gas and fuel oil.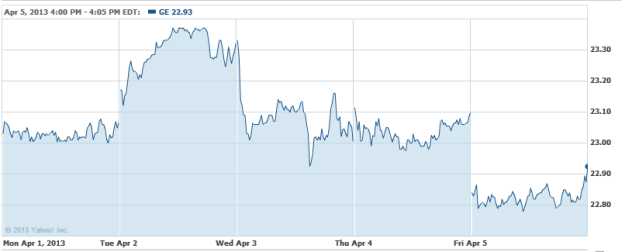 Don't Miss: Can GE Dominate the World's Wind Energy Market?
Don't Miss: Did The Bailout Of Cyprus Change The Tone Of The European Crisis?