3 Energy Stock Stories Closing Out a Busy Trading Week
ConocoPhillips (NYSE:COP): Closing price $74
ConocoPhillips and Santos Ltd. which are developing separate liquefied natural gas projects in Australia, costing over $40 billion, have agreed to share pipelines and exchange gas to lower costs and duplication. The projects in Queensland state will construct two pipeline connection points and sign gas-swap agreements, said their joint statement Friday from Adelaide-based Santos and ConocoPhillips's partner, Sydney-based Origin Energy Ltd. ConocoPhillips and Origin are building a $24-billion project to liquefy natural gas for shipment to Asia, while Santos is working on an $18.5-billion development.

BHP Billiton Ltd. (NYSE:BHP): Closing price $71.90
The firm has denied a report that it blocked the access of smaller miners to Africa's largest coal terminal, and said its own expansion in South Africa is constrained by a lack of port capacity. State port and rail operator Transnet SOC Ltd. has alleged that BHP, a shareholder in the Richards Bay terminal, of not making sufficient efforts to permit black-owned mining firms to use the port, according to an earlier Business Day report, which said that BHP has refused to allocate greater export rights demanded by the smaller firms. The report cited the Transnet head Brian Molefe.

Freeport-McMoRan Copper & Gold Inc. (NYSE:FCX): Closing price $37.44
Freeport-McMoRan announced Friday it will use London Metal Exchange pricing data for about $200 million worth of annual cobalt sales, changing from a published benchmark that has been an industry standard for decades. The firm said that it will turn to LME-based pricing for cobalt and cobalt hydroxide supply contracts from January 1, rather than Metal Bulletin, which assesses benchmark prices for global metals twice weekly. The American copper and cobalt producer connected the move with improving trading volumes on the London exchange's youngest contract.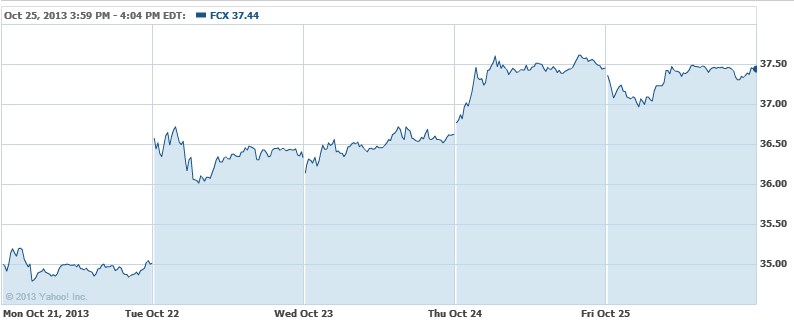 Investing Insights: Does Exxon Mobil Support Higher Prices?