3 Energy Stock Stories Sparking Investment Chatter on Monday
Total SA (NYSE:TOT): Closing price $60.42
Managing Director Denis Palluat de Besset for Total in Brazil said that his firm only made a final decision to participate in a bid for the colossal Libra oil field in that country, after the government made some appointments to a new state-controlled company last week. Brazil made the appointments to run Pre-Sal Petroleo SA, the government-run firm that will oversee development of the recently discovered deep water oil fields. It appointed Oswaldo Pedrosa as manager on October 14, only one week ahead of the auction of the enormous field. On Monday, Total joined with four other players, including Petróleo Brasileiro SA, or Petrobras, to make the sole and winning bid to develop Libra, which is calculated to hold recoverable reserves of between 8 billion and 12 billion barrels of oil.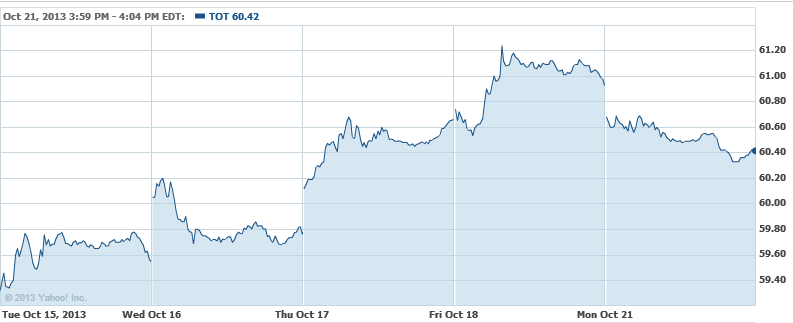 Anadarko Petroleum Corp. (NYSE:APC): Closing price $95.95
On Monday, Anadarko announced the closing of a property exchange with Noble Energy, Inc. in the Wattenberg field of northeastern Colorado, effective Jan. 1, 2013. Through the terms of the trade, each party will exchange roughly 50,000 net acres. For Anadarko, this acreage exchange will improve its core development area, while retaining the benefits of its Land Grant mineral ownership on arounf 21,000 acres of the lands to be conveyed to Noble.

Halliburton Co. (NYSE:HAL): Closing price $50.63
Vigorous oilfield activity in Russia, Saudi Arabia and Angola aided Halliburton in narrowly surpassing expectations on Monday, with a 17-percent jump in third-quarter profit, but still its shares slipped because its main competitors performed even better. The world's number two oilfield services firm has been chasing opportunities outside its traditionally dominant United States market to better challenge its larger rival Schlumberger Ltd., which also beat estimates with quarterly profits. Shares closed down by 3.45 percent Monday.

Don't Miss: Is America's Oil and Gas Industry Overdoing it?