3 Energy Stock Stories Sparking Investor Interest on Tuesday
Statoil ASA (NYSE:STO): Closing price $22.26
Statoil's Chief Executive Helge Lund said Monday during a Houston briefing for a number of journalists, that its early move into new plays and a geographically diverse portfolio have contributed to making Statoil into one of the world's top oil and gas exploration companies. The Norwegian firm has discovered over 550 million barrels of oil equivalent since the beginning of 2013, including finds in offshore Canada, East Africa and U.S. shale plays. Lund observed that, "In the middle of the last decade we changed our strategy — we decided to go after bigger positions earlier with higher risks, where we could see high impact opportunities," adding that the strategy has led to investments in significant new space in Russia, Australia, the Gulf of Mexico, and Brazil.

CNOOC Ltd. (NYSE:CEO): Closing price $203.93
Uganda is searching out a lead investor to develop a refinery estimated to cost $2.5 billion two weeks after issuing its first production license to China National Offshore Oil Corp. (CNOOC) as it endeavors to exploit reserves. The investor, which could be either a company or a group of them, will be chosen by April and will take an interest of up to 60 percent in the facility, which is proposed to have a capacity at 60,000 barrels per day, according to Robert Kasande, an assistant commissioner in the Energy Ministry, on Tuesday by phone from Entebbe. Uganda has been classified as one of the most impoverished nations by the World Bank, but discovered oil in 2006 and has an estimated 3.5 billion barrels of crude, says the Energy Ministry.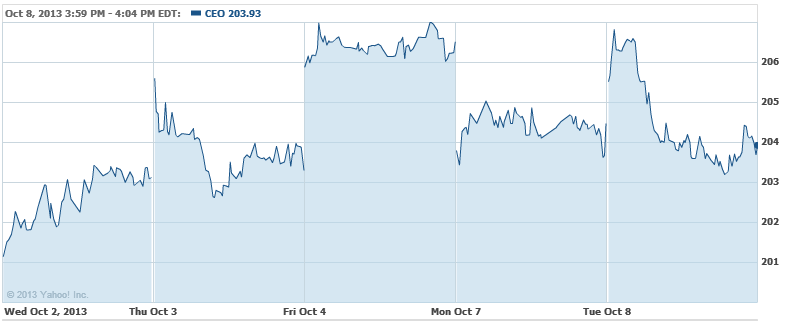 Valero Energy Corp. (NYSE:VLO): Closing price $33.76
An inside trader reported to Reuters Tuesday that Valero won a tender initiated by Costa Rica's Recope, to provision the refinery with 14.25 million barrels of ultra low sulfur diesel, jet fuel, and motor gasoline. Recope's board of directors told the firms participating in the tender, which was one of the largest for Latin America thus far in 2013, that Valero won for 6.9 million barrels of ULSD, 6.05 million barrels of gasoline, and 1.3 million barrels of jet fuel. The 67 cargoes should be delivered beginning in November during the next 12 months.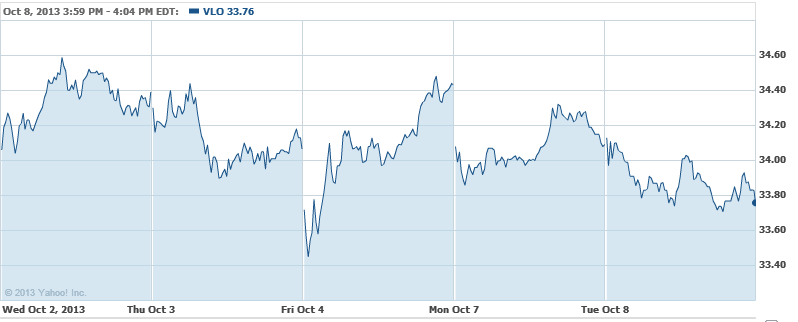 Don't Miss: Can Improved Fuel Economy Boost GM Truck Sales?