3 Energy Stock Stories to Close Out the Month
TransCanada Corp. (NYSE:TRP): Closing price $43.62
An aerial analysis by the market research firm Genscape indicates that the southern part of the Keystone XL pipeline is running behind schedule. Genscape reported that its photographs from flyovers of the construction area on August 18, together with other research, put its estimated date of service for the pipeline in the first quarter of 2014.
The pipeline owner, TransCanada, has said that the project will be finished by the end of the year, commenting in a press release that, "Genscape believes this estimate to be optimistic based on construction progress."
Are these stocks a buy or sell? Let us help you decide.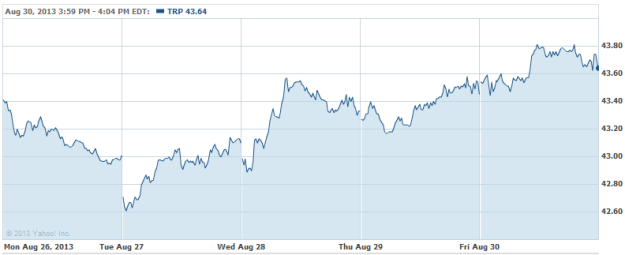 Duke Energy Corp. (NYSE:DUK): Closing price $65.60
Duke Energy has reached a resolution with the Sierra Club, Save the Valley, Citizens Action Coalition, and Valley Watch concerning outstanding disputes with the Edwardsport power plant air permits.
The Indiana Department of Environmental Management issued the new plant's air permits in 2008 and through the settlement, they remain approved with no alterations. The quarrel centered on technical matters surrounding the permits which allowed Duke to build and operate the plant. The terms also address deadlines for retiring units at Duke Energy's Wabash River Station in West Terre Haute.
Are these stocks a buy or sell? Let us help you decide.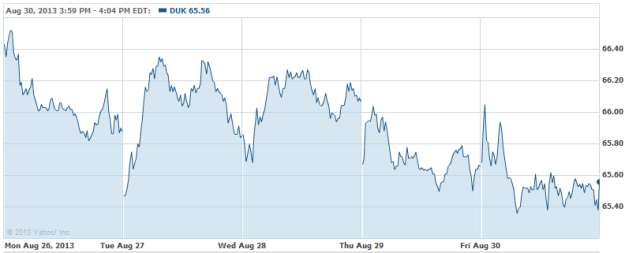 Total SA (NYSE:TOT): Closing price $55.31
Total Chief Executive Christophe de Margerie advised reporters on the sidelines of the Medef business lobby's annual conference that the unrest and conflict in Libya had only limited impact on his company's production, adding that he expects output to shortly resume there.
The CEO observed that, "Our production in Libya hardly fell. It went from 64,000 barrels per day to 55,000, it's minor. I think things should resume quite fast because the export terminal will be put back in service quite soon."
Are these stocks a buy or sell? Let us help you decide. Check out our Stock Picker Newsletter now.