3 Energy Stock Stories to Fuel Investment Chatter
Royal Dutch Shell
(
NYSE:RDSA
): Closing price $63.96
Shell wants to
further broaden
its position in the worldwide gas business and is presently mulling investment options that total in excess of 20 million tons per year of LNG projects around the globe.The supermajor is doubling down on the world gas trade, which already brings in over $9 billion annually, representing roughly 40 percent of its bottom line, through investment in LNG and gas-to-liquid facilities on an international basis. Prior to this, Shell has secured an arrangement to acquire Repsols LNG assets in Peru and Trinidad & Tobago for $4.4 billion, sewing up a gap in its LNG portfolio by allowing it access to gas supply in the western Atlantic and eastern Pacific regions, according to Executive Vice President of integrated gasMaartin Wetselaar.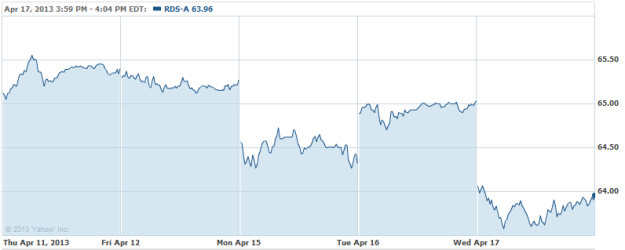 Noble Energy
(
NYSE:NBL
): Closing price $106.59
Noble has initiated its
second 3D seismic shoot
in the South Falklands basin, as data from the first survey is being fast-tracked for interpretation, according to its co-venturer Falkland Oil & Gas.The latter told the London Stock Exchange on Tuesday that the first shoot, now finished, over the mid-Cretaceous Diomedia fan complex in a licensed area south of the Falkland Islands, garnered more data than was originally expected.The 5235 square kilometers of acquired data is now being processed and should be available in the fourth quarter of 2013.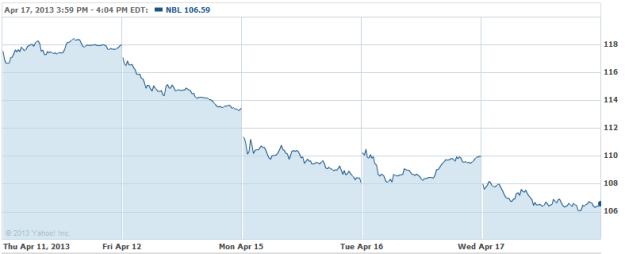 Seadrill Limited
(
NYSE:SDRL
): Closing price $34.78
The company has inked a contract with LLOG Bluewater Holdings, for employment of the
newly built drill-ship
, West Neptune, offshore the Gulf of Mexico. The agreement duration is a minimum of three years, along with an option for a one-year extension at mutually-agreed rates. The potential revenue for the primary contract term is about $662 million. The West Neptune is should be delivered to Seadrill from the Samsung Heavy Industries shipyard in Geoje, South Korea, early next year.