3 Energy Stock Stories To Ignite Investment Chatter
Royal Dutch Shell (NYSE:RDSA): Current price $
Hans Stinis, Shell's integrated gas strategy & portfolio manager predicts that
world demand for liquid natural gas
will reach 400 million tons yearly by 2020 and 500 mtpa by 2025. Population growth is projected to top 8 billion by 2030, which will cause demand for the clean-burning  fuel to be almost inevitable, as Stinis reported to an audience at LNG 17 in Houston on Wednesday, remarking that gas is the "ideal fuel" to satisfy demand, adding that it is "clean" and "easy to transport" and will supplant coal during the next 20 years, not only in Europe but globally. However, LNG shipments to Europe have slumped, in the wake of by rising coal imports.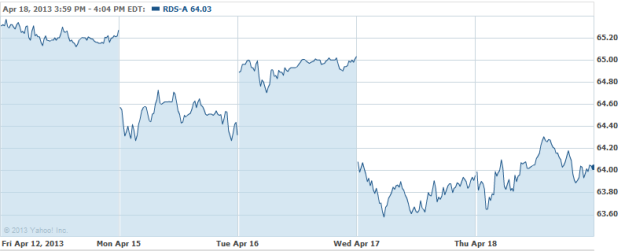 Bill Barrett Corporation
(
NYSE:BBG
) Current price $
The gas producer Bill Barrett Corp. has formally chosen Scot Woodall as its
new chief executive and president
, solidifying the position he has held on an interim basis since January. Woodall has 28 years' experience in the oil and gas industry, and prior to this served as Bill Barrett's chief operating officer. Chairman Jim Mogg commented that "he has significant industry experience and his commitment to operational excellence should deliver shareholder value as we develop our core positions" in the Denver-Julesburg and Uinta basins in Colorado and Utah.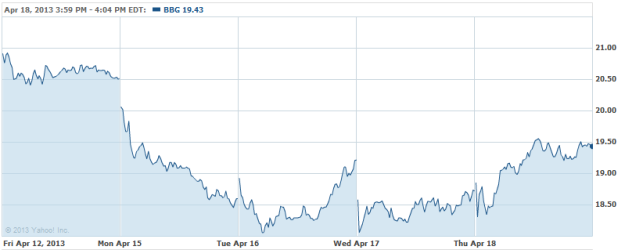 Hess Corporation
(
NYSE:HES
): Current price $
A knowledgeable source reports that Hess Corp will sell one of its two Algerian oil interests to Spain's Cepsa, as it is already heavily involved there, because of a poor return potential. Overseas oil firms have long complained about Algeria's output-sharing terms, which has led to the freezing up of major investments and a fall in oil and gas production during the past few years. Weak interest in the last upstream licensing round prompted the government to pass an amended hydrocarbon bill in January, but the changes might be in sufficient to neutralize the prospect of greater security costs after the In-Amenas plant attack in that same month.
Are these stocks a buy or sell? Let us help you decide. Check out our Stock Picker Newsletter now.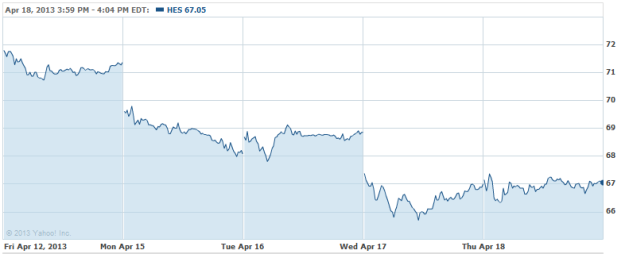 Don't Miss: Here's How Stocks Sank With Falling Oil Prices.