Chesapeake Energy Corporation (NYSE:CHK): Closing price $22.60
Chesapeake must face an lawsuit in Ohio concerning claims that it underpaid gas royalties for years, according to an appeals court. The lawsuit was brought as a class action on behalf of Ohio leaseholders, and alleges that a Chesapeake predecessor firm commenced by 1993 to "deliberately and fraudulently underpay the full gas royalty due," and that the present company continued the practice subsequent to taking over the leases in 2005. An Ohio trial court turned aside the lawsuit in 2010, citing a state law that mandates the filing of such claims within four years after the cause of action occurs. The United States Court of Appeals in Cincinnati reversed that decision on Wednesday, agreeing with the plaintiffs that allegations of continuing underpayment means that the claims are not time-barred.
Are these stocks a buy or sell? Let us help you decide. Check out our Stock Picker Newsletter now.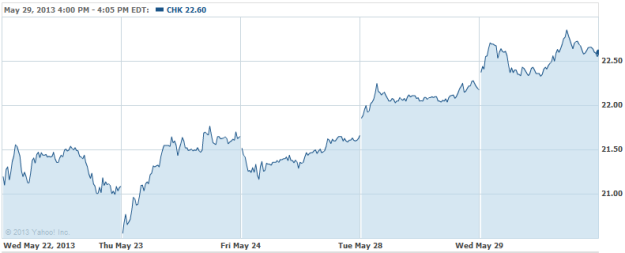 Total (NYSE:TOT): Closing price $51.24
On Wednesday, the Securities and Exchange Commission charged the French oil major Total with violating the Foreign Corrupt Practices Act when it paid $60 million in bribes to the intermediaries of an Iranian government official, who then used his influence to assist the firm in obtaining valuable contracts through which to develop significant oil and gas fields in Iran. Further, the SEC claims that Total made in excess of $150 million in profits through the bribery scheme. Total tried to conceal the true nature of the illegal payments by entering into sham consulting accords with intermediaries of the Iranian official and wrongly characterizing the bribes in its books and records as legitimate "business development expenses" related to the consulting agreements, according to the agency.
Are these stocks a buy or sell? Let us help you decide. Check out our Stock Picker Newsletter now.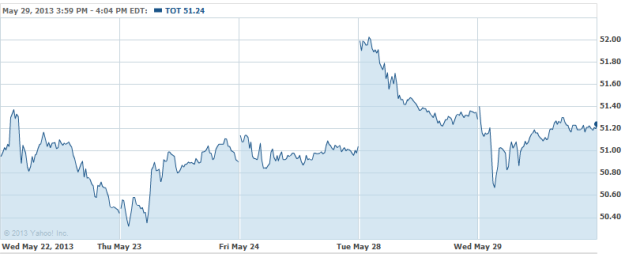 Diamond Offshore Drilling (NYSE: DO): Closing price $70.40
Diamond has announced an arrangement with Hyundai Heavy Industries Co. to construct a new Moss CS60E design harsh environment semi-submersible drilling rig. The 10,000 dynamically positioned rig should be delivered after November of 2015. The projected capital cost of the unit — including spares, commissioning, and shipyard supervision — is about $755 million. Diamond also said that it has entered into a three-year drilling contract with a subsidiary of BP (NYSE: BP) to employ the rig for initial operations off the coast of South Australia. The initial operating day-rate through the drilling contract is $585,000 per day, and is subject to upward adjustment for certain increased operating costs and equipment modifications.
Are these stocks a buy or sell? Let us help you decide. Check out our Stock Picker Newsletter now.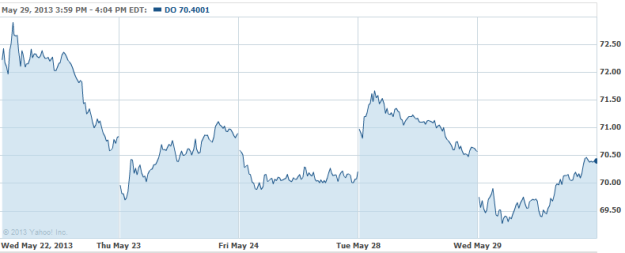 Don't Miss: Taking a Deep Look at America's Energy Status.