3 Energy Stock Stories To Spark Tuesday Investment Chatter
TransCanada Corp. (NYSE:TRP): Closing price $44.19
TransCanada has brought a lawsuit against the gas distribution division of its rival Enbridge Inc. (NYSE:ENB) regarding its decision to end an agreement that would see the parties co-operate on a 23-kilometre stretch of natural gas pipeline in the Greater Toronto Area. In a statement of claim filed in the Ontario Superior Court of Justice last week, the plaintiff said that "TransCanada will suffer irreparable harm if Enbridge does not abide by the terms of the (memorandum of understanding)." In order to accommodate increasing energy demand in the Area, Enbridge proposed late last year to expand its gas distribution system in the region. At about the same time and in the same area, TransCanada was also broadening its own natural gas infrastructure.
Are these stocks a buy or sell? Let us help you decide.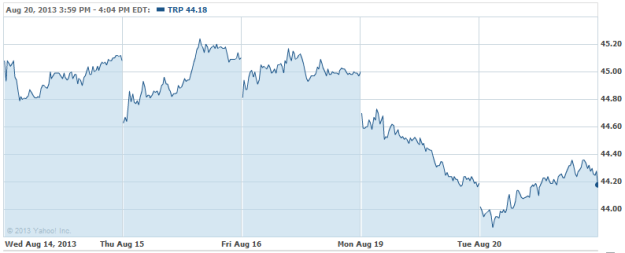 Halliburton Co. (NYSE:HAL): Closing price $47.35
Halliburton has expanded its Manufacturing and Technology Centre based in Senai, Malaysia, that was initially established in March 2008. Adding the 9,844 square meter extension, the facility now spreads over 29,434 square meters in the 13-acre center, and comprises a manufacturing plant, a bulk plant and an administration building. The Centre also includes onsite tech and onsite high pressure testing facilities. The expansion will especially handle the manufacturing of a broad variety of products that include packers, services tools, tubing retrievable safety valves, subsurface flow, and swell and screens tech from Halliburton's Completion Tools product line.
Are these stocks a buy or sell? Let us help you decide.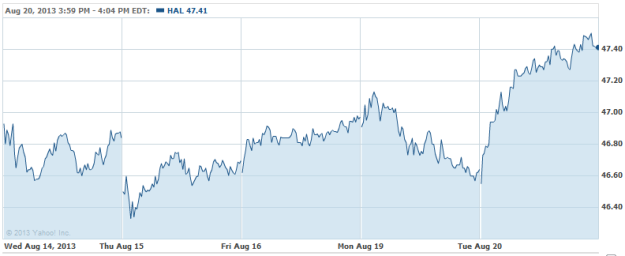 Chevron Corp. (NYSE:CVX): Closing price $118.29
Chevron's shale gas arrangement in Ukraine received a roadblock on Tuesday when a local council turned down the government's draft production-sharing agreement with the American major, amid warnings by nationalists over likely damage to the environment. Officials told Reuters that deputies in Ivano-Frankivsk region in western Ukraine, had returned the draft to the government, insisting upon guarantees which would satisfy their fears over the exploration plans. Chevron wants to secure an agreement to explore the Olesska shale field in western Ukraine, while Royal Dutch Shell has already reached a $10-billion deal for shale exploration and extraction at the Yuzivska field in the east of the country. The council's website indicated that deputies expressed worries about the ecological consequences of shale exploration in the mountainous forest region which is famous for inland tourist resorts.
Are these stocks a buy or sell? Let us help you decide.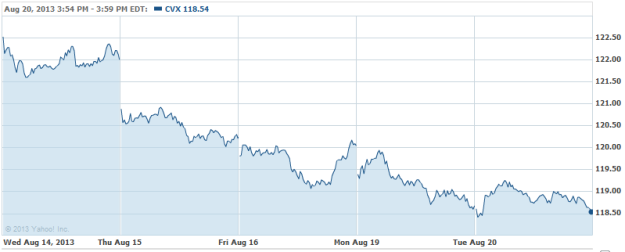 Don't Miss: It Wasn't Weather That Pushed Crude Futures to 4-Month High.