3 Energy Stock Stories to Spark Weekend Investment Chatter
ConocoPhillips (NYSE:COP): Closing price $73.19
ConocoPhillips says that it now favors centering upon oil fields closer to home, and will abandon higher-risk assets farther off, to that effect. The company said that it anticipates proceeds of close to $9 billion from the divestiture of its interests in Kazakhstan, Algeria, and Nigeria. Conoco's plan to concentrate on North America was reinforced on Thursday when it reduced its production forecast for 2013 due to unrest in Libya. The lowered estimate was the primary negative in Conoco's third-quarter results the company posted a better-than-expected 39 percent jump in profit, attributed in part to higher oil and natural gas prices.
Chevron Corp. (NYSE:CVX): Closing price $118.09
Chevron, which holds about one-half the revenues of Exxon, reported Friday that it shelled out $10.6 billion in the third quarter for capital and exploratory expenses. However, Exxon paid $10.5 billion during the same period. Chevron Chief Financial Officer Patricia Yarrington predicted during a conference call, that the company's spending this year would run some 10 percent higher than was planned.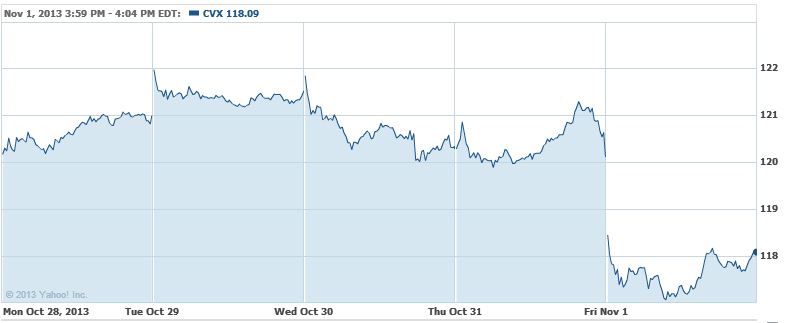 Tesoro Corp. (NYSE:TSO): Closing price $47.84
Tesoro has accepted a federal order requiring upgrades on its oil pipeline system throughout North Dakota and Montana that will permit the firm to restart a section closed since a 20,000 barrel spill discovered on September 29. The Department of Transportation's Pipeline and Hazardous Materials Safety Administration issued a safety order Friday allowing Tesoro to restart a 35-mile section of the 200-mile High Plains pipeline system. The order requires weekly aerial patrols of the line to be made for one year, and new leak detectors along all regulated sections of the system.

Don't Miss: Can Oil Companies Spend Their Way Out of Industry Headwinds?