3 Financial Stock Stories for Investor Perusal
American Express Company (NYSE:AXP): Current price $64.55
On Monday, American Express reported the promotion of Edward P. Gilligan to president, effective immediately. The firm's world consumer, small business, merchant, network, risk and banking groups will continue to report to him. Gilligan has served as vice chairman of the company since 2007, when he was appointed head of a Business-to-Business group responsible for its relationships with merchants, corporations and bank partners globally.
Are these stocks a buy or sell? Let us help you decide. Check out our Stock Picker Newsletter now.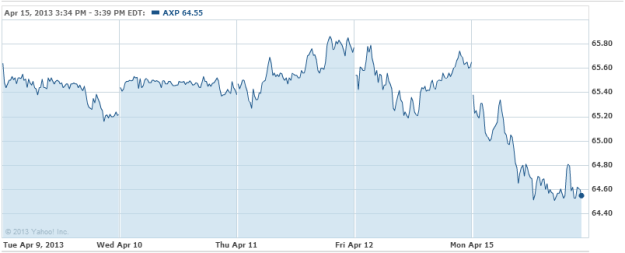 Brookfield Asset Management (NYSE:BAM): Current price $36.12
Brookfield on Monday announced the finalization of the spin-off of Brookfield Property Partners, a newly-formed entity that owns substantially all of Brookfield's commercial property assets. The spin-off was accomplished via a special dividend of units of BPY to holders of Brookfield's Class A and B limited voting shares as of the record date, March 26, 2013. Each holder of Shares received one BPY unit for approximately every 17.42 shares (roughly 0.0574 BPY units for each Share). Shareholders of Brookfield now own 35,839,414 BPY units, or 7.56 percent of BPY, and Brookfield owns the remaining 92.44 percent of BPY.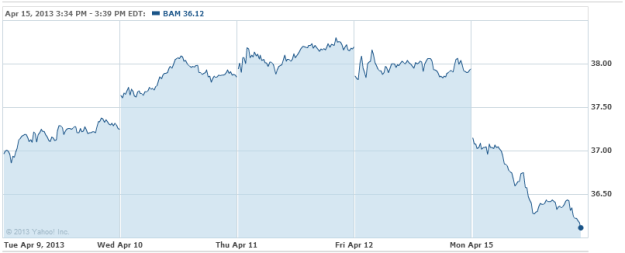 Gramercy Capital Corp. (NYSE:GPT): Current price $4.51
Gramercy reported Monday that it has changed its name to Gramercy Property Trust Inc., and began trading under its new NYSE ticker symbol GPT. Also, the firm announced the launch of a new website: www.gptreit.com.

Don't Miss: Are the Biggest Banks Ready to Spark Home Loan Strength?