3 Financial Stock Stories To Start the Trading Week
Lloyds Banking Group (NYSE:LYG): Current price $3.57
Lloyds Chairman Win Bischoff will step down, following over three years in the position, explaining that the bank's rebound from its 2008 government bailout has progressed sufficiently for him to exit. A Monday statement by the firm said that Bischoff will leave prior to May 2014, depending upon when his successor is named. Bischoff has been chairman since 2009, after serving in the same position at Citigroup (NYSE:C), to which he sold Schroders after a 30-year career at the latter.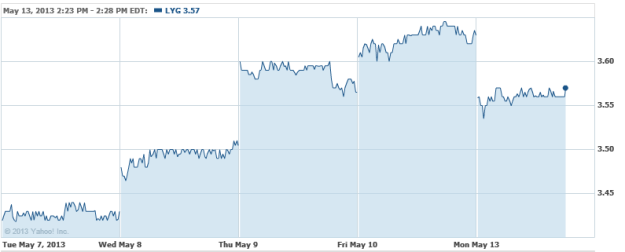 HSBC Holdings (NYSE:HBC): Current price $56.74
The Independent reported on its website on Sunday that HSBC could announce additional job eliminations on Wednesday, when investors will be informed that Chief Executive Stuart Gulliver will go forward with plans to produce a more streamlined bank. Already, the company has slashed its world workforce from 300,000 to 254,000 through redundancies and also the disposal or closure of 52 businesses since 2011, according to the newspaper, which also reported that nine divisions have been taken out in 2013, including an exit from Panama, and that the bank could rid itself of up to 20 more businesses over the next two years.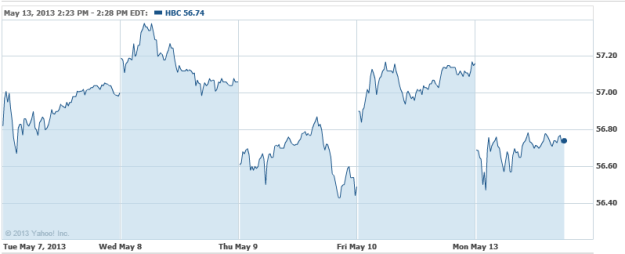 Main Street Capital Corporation (NYSE: MAIN): Current price $30.55
On Monday the corporation announced that its board has declared its semi-annual special cash dividend of 20 cents per share payable in July. This special
dividend, which marks Main Street's second special dividend in 2013, is separate to the previously reported regular monthly cash dividends that the firm has
declared for the third quarter of 2013 of 15.5 cents per share for each of July, August, and September 2013.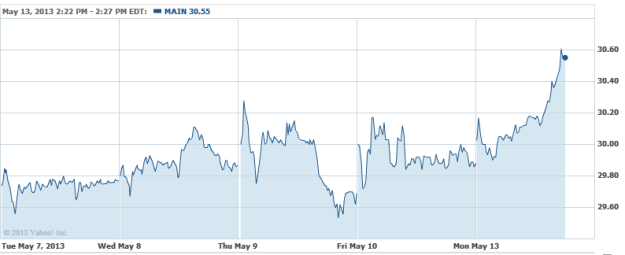 Don't Miss: College Debt Bubble Teaches Regret.