3 Hard Economic Truths from President Obama's Speech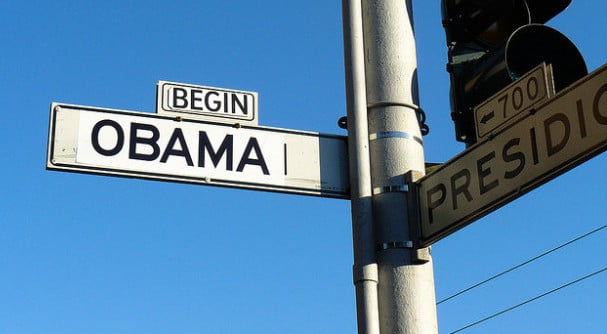 "In the period after World War II, a growing middle class was the engine of our prosperity," President Barack Obama said in a speech on Wednesday afternoon at Knox College in Illinois. "Whether you owned a company, swept its floors, or worked anywhere in between, this country offered you a basic bargain — a sense that your hard work would be rewarded with fair wages and benefits, the chance to buy a home, to save for retirement, and, above all, to hand down a better life for your kids."
While President Obama is currently dogged by the IRS targeting scandal and the PRISM ordeal, most of his legacy will be tied to the financial crisis that brought the U.S. economy to its knees just as he took office early in 2009. President Obama has served during one of the most economically challenging and politically dense periods in American history, and his speech on Wednesday was the first in a series designed to address the problems facing America's middle class — that is, the engine of prosperity, which stalled in the wake of the crisis.
Here are some of the hard economic truths that President Obama highlighted in his speech at Knox College.
1. "The link between higher productivity and people's wages and salaries was severed."
Data support this claim. Beginning just ahead of the late 2000s financial crisis, output per hour (in red) began to grow faster than real compensation per hour (in blue). The growth disparity between the two has only increased in the post-crisis period.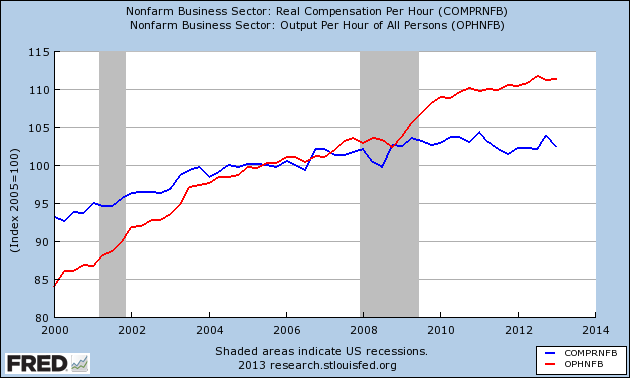 2. "Today, more students are earning their degree, but soaring costs saddle them with unsustainable debt."
According to the American Institute of CPAs, there were nearly 39 million adults in the United States with student loan debt at the end of 2012 — a 70 percent increase from 2004. At an average of $24,803 per loan, the total amount of outstanding student debt was more than $950 billion, greater than the total of all credit card debt, and second only to mortgages as a contributor to overall household debt.
The cost of college has more than quadrupled over the past 25 years, and federally subsidized loans probably helped fuel the surge. To put it one way, demand for a college education (real, perceived, or otherwise) has increased steadily over the past few years.
The number of people attending college between 2000 and 2010 increased 37 percent, with much of the growth in full-time enrollment (compared to an increase of 11 percent in the previous decade).
3. "While the stock market rebound has helped families get back much of what they lost in their 401ks, millions of Americans still have no idea how they'll ever be able to retire."
Last July, Senator Tom Harkin, Chairman of the U.S. Senate Committee on Health, Education, Labor & Pensions, issued a report called "The Retirement Crisis and a Plan to Solve It." The report suggests that the retirement crisis is "directly attributable to the breakdown of the traditional 'three-legged stool' of retirement security – pensions, savings, and Social Security." All three of these legs have been eroded in some way by the financial crisis and the global economic downturn.
According to the report, Americans currently hold a $6.6 trillion retirement deficit. Only one in five people in the private sector workforce have a defined benefit pension plan, and half of Americans have less than $10,000 in savings.
What's more, Social Security is in danger. The Board of Trustees of the Federal Old-Age and Survivors Insurance and Federal Disability Insurance Trust Funds reported in June that annual costs of the Social Security program will begin to exceed total income in 2021, and reserves will begin to drain. If left unaddressed, reserves could be depleted as early as 2033.
The report explained why: "The projected OASDI annual cost rate increases from 13.95 percent of taxable payroll for 2013 to 16.98 percent for 2035, and to 18.01 percent for 2087, a level that is 4.77 percent of taxable payroll more than the projected income rate for 2087." In short, unless taxes are increased or spending is cut, the OASDI program will not be able to satisfy its obligations.
Don't Miss: Can U.S. Manufacturing Make a Second-Half Comeback?