3 Healthcare Stock Stories Making Waves On Friday
Nutrisystem (NASDAQ: NTRI): Closing price $10.10
On Friday, Nutrisystem announced that to address increasing consumer demand for its Nutrisystem D 5-Day Jumpstart Weight Loss Kit, the firm has stepped up its output and will offer its product in 3,700 Wal-Mart (NYSE:WMT) stores by the end of this month. The company is a national strategic partner of the American Diabetes Association and the NutrisystemD plan meets the nutritional guidelines of that body.
Are these stocks a buy or sell? Let us help you decide.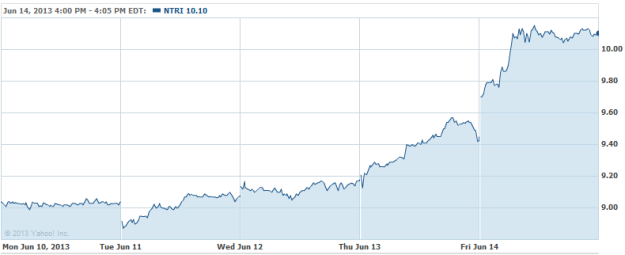 Elan Corporation (NYSE: ELN): Closing price $13.66
Moody's Investors Service revised Friday the outlook on the company's shares to Developing from Stable. Moody's also affirmed Elan's current ratings, including the Ba3 Corporate Family Rating, the Ba2-PD Probability of Default Rating, and the SGL-1 Speculative Grade Liquidity rating. The rating outlook is set at Developing, based on Elan's announcement that it is for sale. The purchase of Elan by a company having a stronger credit profile might lead to a rating upgrade, depending on the resolution of Elan's debt. Conversely, an acquisition by a smaller firm involving high leverage might result in a downgrade.
Are these stocks a buy or sell? Let us help you decide.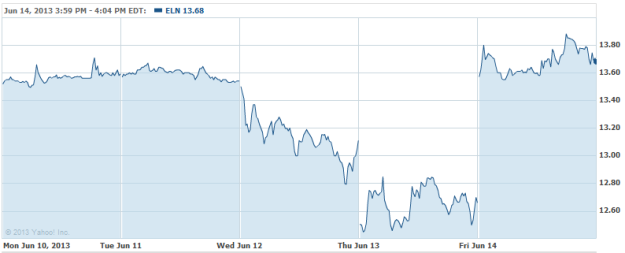 Mast Therapeutics (NASDAQ:MSTX): Closing price $0.44
Mast has disclosed the pricing of an underwritten public offering of 50 million units, with each unit comprised of a fixed combination of one share of common stock and one warrant to buy 0.5 of a share of common stock, at a public offering price of 50 cents per unit. The units will not be issued or certificated. The shares of common stock and the warrants are immediately separable and will be issued separately, but purchased together. Each warrant will have an exercise price of 65 cents per share and will expire five years from the date of issuance. Additionally, the firm will allow the underwriters a 30-day option in which to buy up to an additional 7.5 million units to cover any over-allotments. The offering should close on June 19th, subject to the usual closing  conditions.
Are these stocks a buy or sell? Let us help you decide.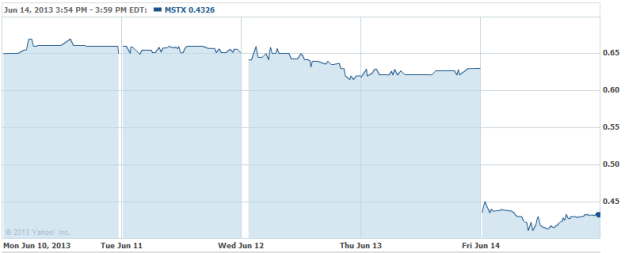 Investing Insights: Is Molycorp Undervalued?