3 Healthcare Stock Stories Ready for a Thursday Investment Wellness Checkup
GlaxoSmithKline Plc (NYSE:GSK): Closing price $52.64
Glaxo's anti-seizure drug Potiga now carries a black-box warning in the United States regarding risks that include potential vision loss. The warning is the FDA's most serious, and underscores risks of abnormalities in the eye, vision loss, and skin discoloration, any of which could become permanent, said a Thursday statement. The revised label appears after the risks were signaled by the FDA in April. The agency says that patients should have eye exams prior to starting Potiga and every six months during treatment.

CytRx Corp. (NASDAQ: CYTR): Closing price $2.38
The biopharmaceutical research and development firm has announced further positive clinical data from a multi-site global Phase 2b study comparing its aldoxorubicin as a first-line treatment for advanced soft tissue sarcomas, compared with the widely used chemotherapeutic agent doxorubicin. The data is contained in a poster presented Thursday at the 18th Annual Connective Tissue Oncology Society Meeting at the Sheraton New York Times Square Hotel, and includes additional data captured between September 27 and October 16. The evaluation is still ongoing, and as of October 16, 47 patients remained active in the clinical trial (36 on aldoxorubicin and 11 on doxorubicin). CytRx expects to release its top-line progression-free survival results for the global Phase 2b clinical trial in December.

Sequenom Inc. (NASDAQ:SQNM): Closing price $1.92
Ariosa Diagnostics Inc. won summary judgment Wednesday in a patent infringement litigation involving United States Patent No. 6,258,540 against Sequenom Inc., which is an exclusive licensee of the patent from Isis Innovations Inc. The United States District Court for the Northern District of California invalidated the '540 patent at issue, providing Ariosa with a complete victory in the case. The patent in question is related to the detection of fetal cell-free DNA in the bloodstream of pregnant women, and Sequenom claimed that it applied to tests for the determination of certain fetal genetic characteristics. The Court invalidated Sequenom's patent since it attempts to cover this natural phenomenon, which the Court found not patent-eligible subject matter.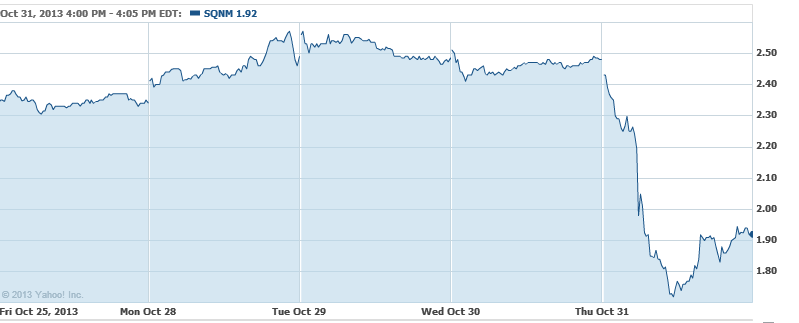 Don't Miss: Top 10 Most Expensive States for College.