3 Healthcare Stock Stories Ready for a Tuesday Investment Checkup
GlaxoSmithKline (NYSE:GSK): Closing price $52.56
GlaxoSmithKline and Theravance's new inhaled lung medication Relvar has been okayed in Europe to treat both asthma and chronic obstructive pulmonary disease, affirming an endorsement by regulators in September. The drug is inhaled through a palm-sized device named Ellipta, and is comprised of a corticosteroid to lower inflammation and a novel long-acting beta-agonist, which was created to open the airways. The clearance will trigger a $15 million payment to GSK from Theravance, along with a further $15 million due when the product is launched.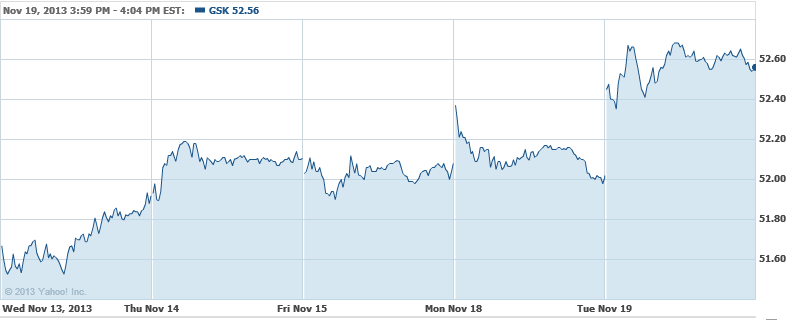 OncoGenex Pharmaceuticals Inc. (NASDAQ: OGXI): Closing price $7.31
OncoGenex announced Tuesday that the SYNERGY trial is moving forward as planned per the recommendation of the Independent Data Monitoring Committee. The primary registration Phase 3 SYNERGY trial was created to examine a survival benefit for custirsen in combination with first-line docetaxel chemotherapy in men who have metastatic castrate-resistant prostate cancer. About 1,023 men have been enrolled to SYNERGY at 140 sites primarily in North America and in Europe. SYNERGY completed enrollment in 2012 and final survival results are expected to be reported by mid-2014.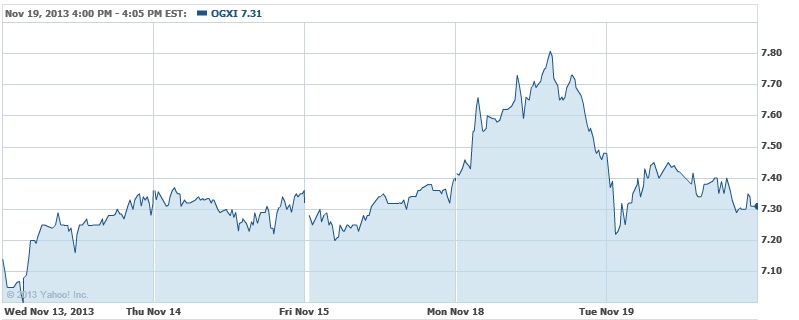 Omeros Corp. (NASDAQ:OMER): Closing price $7.49
On Tuesday Omeros reported analyses of Phase 3 clinical data indicating the impact of OMS302 on lowering the incidence of miosis (pupil constriction) during intraocular lens replacement. OMS302 is the firm's proprietary Pharmacosurgery product being developed for all ILR, including cataract surgery and refractive lens exchange. In these clinical trials in which all patients received standard-of-care preoperative mydriatic topical drops, OMS302 decreased the occurrence of intraoperative pupil constriction. Intraoperative miosis is an significant risk factor for surgical complications.

Don't Miss: Johnson & Johnson's Imbruvica Will Be a Costly Treatment.