3 Healthcare Stock Stories Starting a Tuesday Buzz
ACADIA Pharmaceuticals (NASDAQ:ACAD): Closing price $18.43
On Tuesday, ACADIA presented data from its Phase III program with pimavanserin for Parkinsons disease psychosis, which included data from its pivotal -020 Study and the related, open-label safety extension evaluation, at a poster session at the 17th International Congress of Parkinsons Disease and Movement Disorders in Sydney. Data from the open-label safety extension study showed that long-term administration of pimavanserin is primarily safe and well tolerated in PDP patients, and implied that the duration of antipsychotic effect might be maintained for more than the six weeks investigated in the pivotal -020 Study. ACADIA is  a biopharmaceutical firm focused on innovative treatments that meet unmet medical needs in neurological and related central nervous system disorders
Are these stocks a buy or sell? Let us help you decide.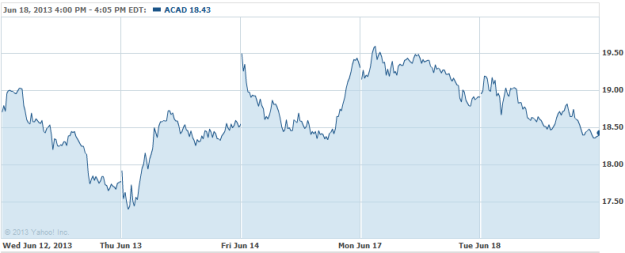 Boston Scientific Corporation (NYSE:BSX): Closing price $9.54
Patients suffering from Parkinson's disease using the Boston Scientific's Vercise DBS (deep brain stimulation) System exhibited a significant improvement in motor scores, according to interim data from the VANTAGE DBS evaluation. Data from the six month follow-up of as many as 40 participants enrolled in the VANTAGE trial were presented at the annual International Congress of Parkinson's Disease and Movement Disorders in Sydney, by Dr. Lars Timmermann, of University Hospital in Koln. The Vercise DBS System is comprised of multiple independent current control, which was created to selectively stimulate targeted areas in the brain, allowing physicians fine control of stimulation.
Are these stocks a buy or sell? Let us help you decide.
Chembio Diagnostics (NASDAQ:CEMI): Closing price $4.92
Chembio announced Tuesday that it's SURE CHECK HIV 1/2 Assay has received CE Mark approval from regulators in Europe. The Assay is now approved for commercialization within the European Union for fast, point-of-care detection of HIV. The product is FDA-approved and distributed in the United States as Clearview COMPLETE HIV 1/2 by Alere NA. At this time, Chembio is collaborating with commercialization partners in Europe, and it expects to see sales of the SURE CHECK HIV 1/2 Assay in the European Union by the first quarter of 2014.
Are these stocks a buy or sell? Let us help you decide.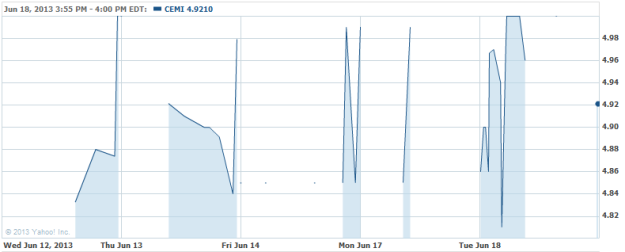 Don't Miss: Will This Ad Convince Americans of Obamacare's Benefits?