3 Media Stocks in Focus: AOL Lays Off Hundreds, Fox Finds a Friend in Wells Fargo, and CBS Should Be Back for Football
AOL (NYSE:AOL): CEO Tim Armstrong has confirmed that "hundreds" of Patch's 1,300 workers have been laid off including division chief Steve Kalin, and that 400 of Patch's 900-plus sites will be shut down or partnered with local sites. Bud Rosenthal, a former Yahoo executive — and until now the head of AOL's dial-up ISP ops — will be Patch's new CEO. Patch has long posed a problem for AOL, and sports a history of significant losses.

21st Century Fox (NASDAQ:FOXA): Wells Fargo increased its price target range on 21st Century Fox to $39-$41 from $34-$36 after attending the company's investor day. The firm believes the company's fundamentals are better than those of its peers. The firm also thinks the company can carry out M&A activity and return cash to shareholders. It keeps an Outperform rating on the stock.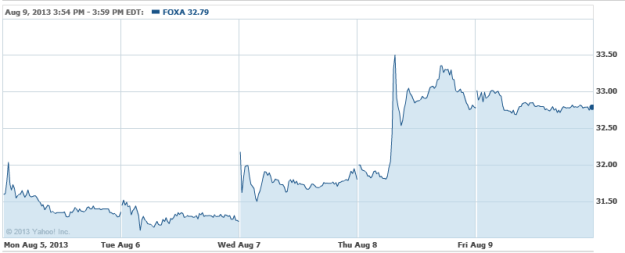 CBS Corp. (NYSE:CBS): By the time opening day for the NFL rolls around, CBS and Time Warner Cable (NYSE:TWC) will be under enormous pressure to solve their carriage fight, Time says. CBS programming has been blacked out for 3 million viewers in key markets for a week now as the broadcaster wants more money from Time Warner Cable for the right to broadcast its flagship network. Rich Greenfield, a media analyst at BTIG, said the two sides wouldn't risk the fury of viewers if NFL games are blacked out.