3 Media Stocks in Focus: AOL's Solid Quarter, DirecTV's Growth Tapers, Netflix Tests Out 4k Video
AOL (NYSE:AOL): AOL shares are spiking after the company reported a strong quarterly performance, with earnings per share of 2 cents and revenue of $561.3 million that beat estimates by $12.49 million. Ad revenue rose 14 percent over last year to $386 million, for 69 percent of the total; global display ad sales grew 5 percent as subscription (dial-up ISP) revenue fell 7 percent. Monthly unique visitors for AOL properties totaled 115 million, up 1 million from the prior quarter and up 4 million over the same period last year.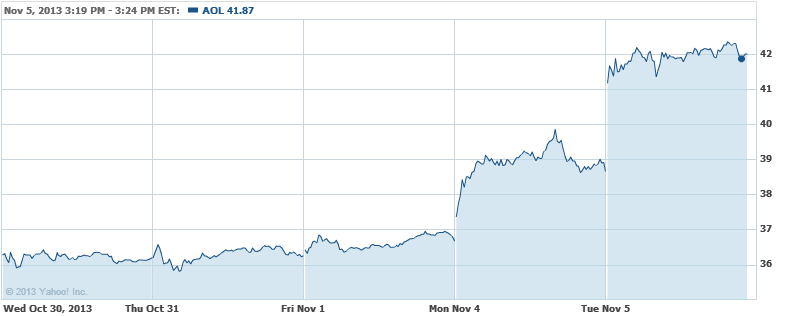 DirecTV (NASDAQ:DTV): DirecTV has posted EPS of $1.28, beating estimates by 27 cents, as revenue of $7.88 billion also beat, by $0.03 billion. Although the company announced that it grew sales as well as its operating margin rate, shares are trading lower; the company added 139,000 net subscribers on its lowest third-quarter churn rate in six years. This brings total subscribers to 20.16 million subscribers in the U.S. and 17.22 million subscribers in Latin America.
Netflix (NASDAQ:NFLX): Netflix believes it will be able to stream Ultra HD 4k video by next year and is currently testing the new feature. 4k video is not an option for subscribers yet, but Netflix has debuted several videos made with test footage; Netflix has been quite vocal about its desire to provide subscribers with 4k service and hopes to become "an important source of 4k" in the future. The company plans to have its original show House of Cards to be among the first videos on the site offered in 4k.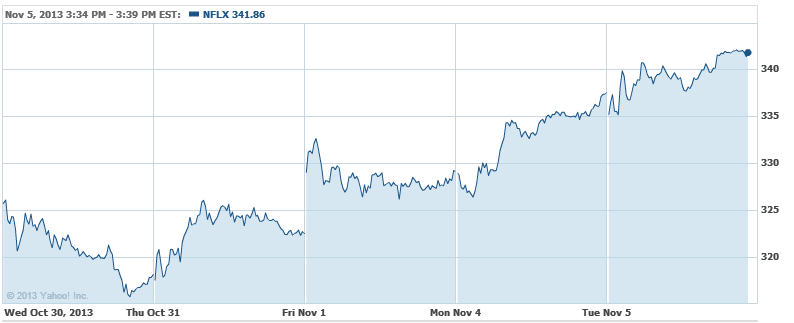 Don't Miss: 5 Roles That Led to Matthew McConaughey's Turnaround.