3 Media Stocks in Focus: CBS's Carriage Fight Rolls On, Comcast's Gaming Plan, Disney's New Expansion
CBS Corp. (NYSE:CBS): The Federal Communications Commission is getting involved in the Time Warner Cable (NYSE:TWC)-CBS content spat and is working to put an end to the dispute that has left 3 million Time Warner customers without CBS programming since August 2. Although acting Chairwoman Mignon Clyburn said the FCC doesn't have the power to intervene, the agency is attempting to act as a moderator to help the companies reach a mutually beneficial conclusion.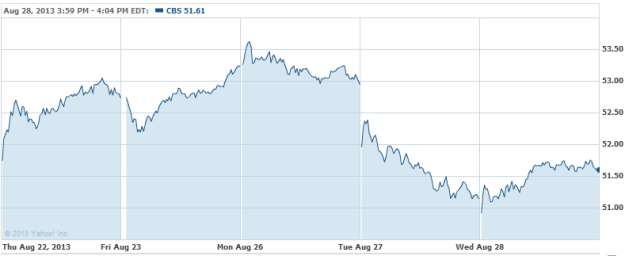 Comcast (NASDAQ:CMCSA): Comcast is testing a new service that will allow the company's new IP-capable X1 platform to operate as a gaming console that feeds off Electronic Arts's (NASDAQ:EA) Origin web portal using an iPad app as the controller. The service "delivers console-quality video games from Electronics Arts directly to your television using your Comcast X1 set-top box," according to a press release. Comcast has not officially recognized the program or its trials and was not available for comment.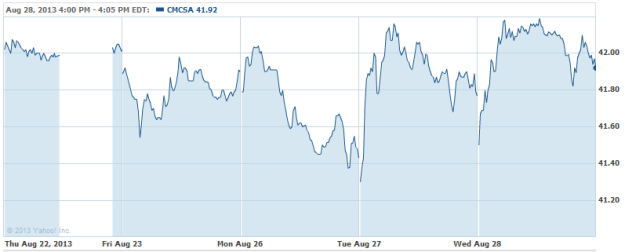 Disney (NYSE:DIS): A board has approved Disney's expansion in Santa Clarita, California, to build 12 soundstages, offices, bungalows, a commissary, and parking on nearly 60 acres of property. Disney has declined to say what type of production will be located on the new lot, Variety reports, but it is expected to house TV projects and is being named Disney/ABC Studios at the Ranch. Initial projections said the new facility would create 2,900 jobs and generate about $533 million in economic activity.