3 Media Stocks in Focus: CBS's News Online, Comcast Falters, Dish Wins in Court
CBS Corp. (NYSE:CBS): Executives with the network have revealed that CBS is planning to launch a 24-hour news channel that would be streamed online and would mainly repurpose video and reporting already produced by CBS News in a bid to help spread out news-related costs. Additionally, the Web-based content could potentially reach those who are not home to watch the nightly news segments; CBS spokesman Dana McClintock said the company is "currently talking to a number of partners" about a potential streaming news service. "There are all kinds of exciting opportunities offered by new platforms, and we intend to keep pursuing them," he said.

Comcast Corp. (NASDAQ:CMCSA): Shares of Comcast are trading down, as earnings per share of 65 cents beat by 4 cents and revenue  of $16.15 billion missed by $0.11 billion. Revenue from the cable communications unit increased 5.2 percent to $10.5 billion in the third quarter as gains in high-speed Internet and business services helped offset lower political advertising compared to a year ago. NBCUniversal saw sales fall 14.2 percent, to $5.9 billion, although after the results of last year's Olympics are removed, the comparison turns into a 3.9 percent gain.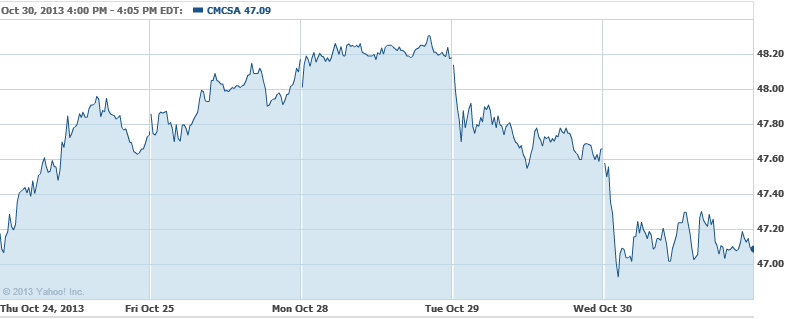 Dish Network (NASDAQ:DISH): Dish has won a legal battle against Harbinger Capital Partners in the company's attempt to bid for portions of the spectrum owned by the now-bankrupt LightSquared. While Harbinger had alleged that Dish used loaning schemes to drive LightSquared into bankruptcy with the intention of bidding out its portion of the spectrum and then obtaining repayment on its loans, a judge ruled that Dish had done nothing illegal. LightSquared itself, rather than its controlling partner, Harbinger, may still be able to bring accusations against Dish if it so wishes.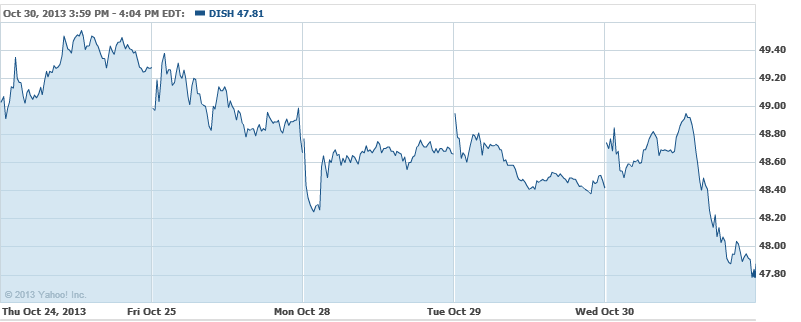 Don't Miss: Top 10 Horror Films for Halloween Spooks.