3 Media Stocks in Focus: Comcast's Box Office Blast, Fox's Sports Problem, and Time Warner's 'Crossfire' Doesn't Show Promise
Comcast (NASDAQ:CMCSA): Comcast's Universal Pictures International unit has already surpassed its global box office mark of last year as the studio has produced hit after hit that have performed well in new markets. In addition to the $1.8 billion it's made so far, UPI still has 14 films to be released this year.

21st Century Fox (NASDAQ:FOXA): With just three days before Fox Sports 1 is scheduled to launch, 21st Century Fox still has not obtained carriage deals with DirecTV, Dish Network, and Time Warner Cable. Fox doesn't have the same kind of leverage that larger broadcasters have — like CBS with the NFL — as its two main assets are Speed programs and a Regis Philbin talk show.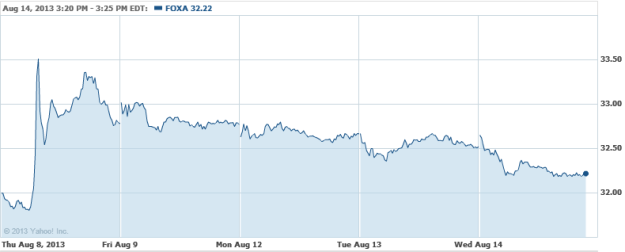 Time Warner Inc. (NYSE:TWX): "It sounded like cats in a bag," according to Deadline.com's Lisa De Moraes, who was referring to CNN's less-than-impressive start of an attempt to re-energize the show Crossfire. Reportedly, the two soon-to-be regulars Stephanie Cutter and S.E. Cupp stepped all over each other, making more noise than debate, Seeking Alpha notes.