3 Media Stocks In Focus: Dish's Sprint Response, Coinstar Looks to a Better Second Half, and Comcast's NCTA Appearance
Dish Network (NASDAQ:DISH): Following a raised bid for Sprint (NYSE:S) from Japanese firm Softbank, Dish issued a statement simply saying: "We continue to believe that Sprint has tremendous value. We will analyze the revised SoftBank bid as we consider our strategic options." The new offer increases the cash given to Sprint investors to $5.50 per share from $4.02 per share, raises SoftBank's offer price for investor shares to $7.65 from $7.30, and raises the price of SoftBank's $1.9 billion investment in Sprint to $6.25 per share from $5.25 per share.

Coinstar (NASDAQ:CSTR): Northland has raised Coinstar's price target to $81 from $66, based on increased confidence in a Redbox revenue ramp in the second half of the year. The firm expects shares to be driven by DBO firming up, guidance reiterates, and Q3 results.

Comcast Corp. (NASDAQ:CMCSA): Here are some highlights from Comcast's presentation at the NCTA convention, courtesy of SeekingAlpha: 1) The future of TV will be more "interactive" with anything you want on any device, according to CEO Brian Roberts. 2) On binge viewing, Roberts says the concept helps brings targeted advertising to video on demand. 3) Can cable companies keep up with broadband services like Google Fiber? The exec runs a Xfinity speed test on the spot to show that a focus on speed plays to the company's strength. He promises new innovation shortly. 4) Due to the emergence of the cloud, Roberts promises TV will change more in the next five years than it did in the last fifty years.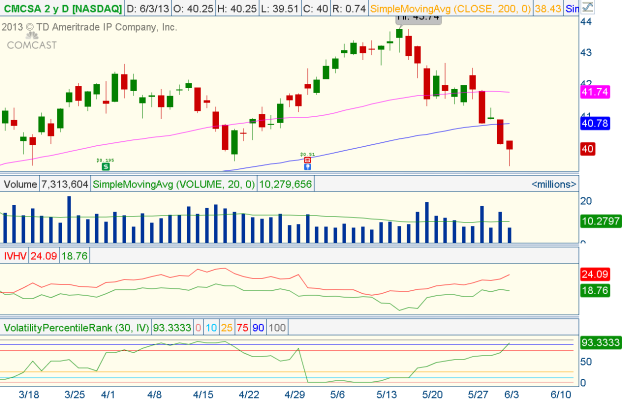 Don't Miss: SoftBank Ups the Ante on Sprint Bid.