3 Media Stocks In Focus: Disney Gets Greedy, Time Warner Cable's Killer Quarter, and Netflix's Plans For Exclusive Content
Disney (NYSE:DIS): Prominent movie theater chains Regal (NYSE:RGC), AMC Entertainment, and Cinemark Holdings (NYSE:CNK) are putting their feet down over Disney's refusal to negotiate terms for how ticket revenues are shared. The companies are canceling advance ticket sales for Iron Man 3, as well as curbing promotional efforts for the flick, which will likely land as one of Disney's top blockbusters for 2013. The chains contend that Disney is "seeking an excessively large take of the box office revenue — up to 65 percent," and hopes to negotiate not just for this film, but others in the future as well.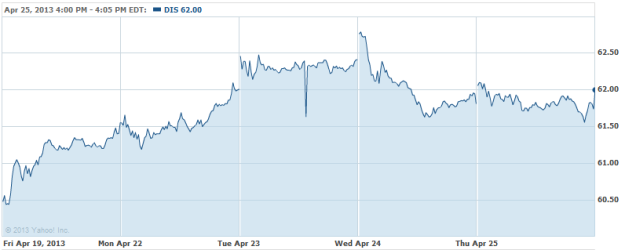 Time Warner Cable (NYSE:TWC): Earnings per share of $1.41 beat estimates by $0.04, and revenue of $5.5 billion represents growth of 6.6 percent year-over-year. High-speed data revenue rose over 17 percent over the same quarter of 2012, and helped to offset a 2.2 percent decline in the video segment. "Business Services continues to perform very well, generating 25 percent year-over-year revenue growth, and is on track for another terrific year. In Residential Services, we're executing on our revitalization plans to build a fundamentally stronger and more agile operation. As a result, I remain very excited about the long-term prospects for this business," said CEO Glenn Britt.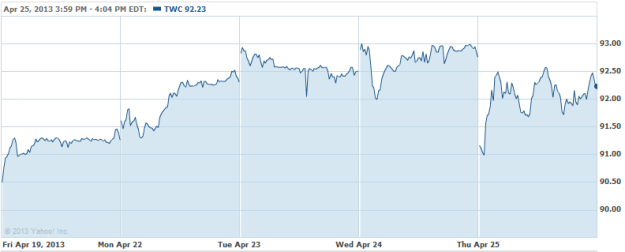 Netflix (NASDAQ:NFLX): In a letter to shareholders, the company announced plans to raise capital to help in producing more original content for the site, to expand its growing library of exclusive content. The company is already pumping $2 billion annually into content investments, posing a threat to profitability. Noting that original programming is cash intensive, the company plans to raise the capital as needed, rather than pulling the money out of domestic profits, as it has done in the past.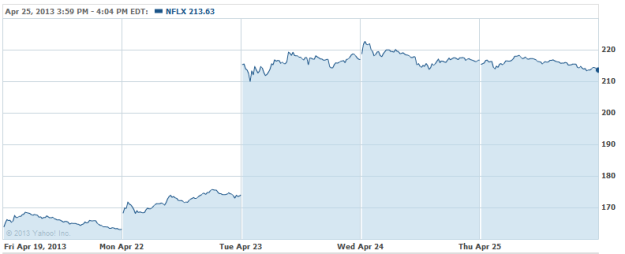 Don't Miss: Can Time Warner Cable Handle This Scary Reality?