Walt Disney Co. (NYSE:DIS): Disney is hoping its new animated feature film, Frozen, which debuts on Wednesday, will bring in profits similar to last year's Wreck It Ralph which grossed $471 million. In recent years, Disney has been challenged to step up its game by competitors Dreamworks, Pixar, Blue Sky, and Illumination. As with most Disney movies, it's expected that the majority of the profit in the wake of the film's debut will stem from the various merchandise sold in years to come. According to a recent Forbes review of Frozen, the film is "a declaration of Disney's renewed cultural relevance."

Netflix Inc. (NASDAQ:NFLX): Netflix is set to release the final season of the CW cult hit Nikita on Friday.  Last spring, Nikita, despite low ratings, was picked up by the network for a fourth and final season: a short, six-episode run that left the show far short of syndication. The move has viewers speculating that the real strategy behind finishing the series was never syndication but instead was an attempt to make the show marketable to digital distributors like Netflix.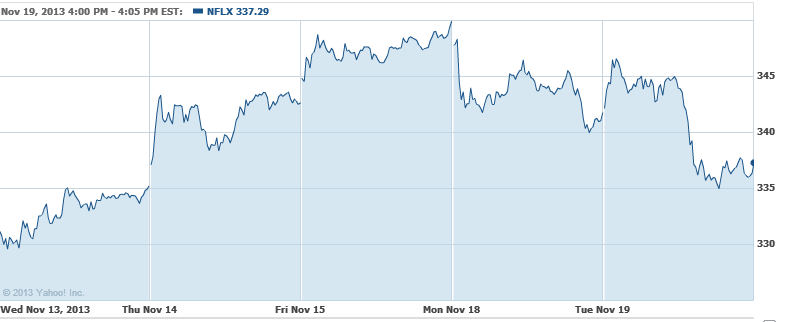 Dish Network Corp. (NASDAQ:DISH): LightSquared, a company that developed a spectrum that was supposed to revolutionize Internet access in the U.S. prior to a Federal Communications Commission ruling that said it presented a threat to the security of signals used in GPS devices, has filed a lawsuit against Dish Network. The lawsuit seeks "compensatory and punitive damages" and alleges that Dish and its chairman, Charles Egen, attempted to "take control of the company's spectrum by improperly taking control of the company's debt."

Don't Miss: 7 Film Directors Who Don't Know How to Fail.