3 Media Stocks in Focus: Disney's Potential Sale, Dish Complains to FCC, Comcast Stays Put
Walt Disney Co. (NYSE:DIS): Disney is considering hiring an investment bank to look into the sale of eight television stations that the company owns. Situated primarily in larger markets like urban centers, the ABC stations reach nearly a quarter of American homes. In a move that could generate billions for the company, Disney may be looking to get rid of the stations because of the power of consolidation, especially in the midst of talks between stations and providers over retransmission fees, in which larger groups of stations have more negotiating power.

Dish Network (NASDAQ:DISH): Dish Network has filed a complaint with the Federal Communications Commission against Media General (NYSE:MEG) over fees that Media General is charging customers. Dish has claimed that Media General didn't allow the proper time for it to file a negotiation before cutting off stations from Dish subscribers, leaving them with no choice but to endure the blackout. Media General has claimed that its practices were perfectly legal and in the course of good business.

Comcast Corp. (NASDAQ:CMCSA): Comcast has decided not to put its media business under review. Unlike in 2011, when the company executed several rearrangements of its various divisions, this year, Comcast has noted that calls for a review have been minimal, and that such a step would not be helpful to the company.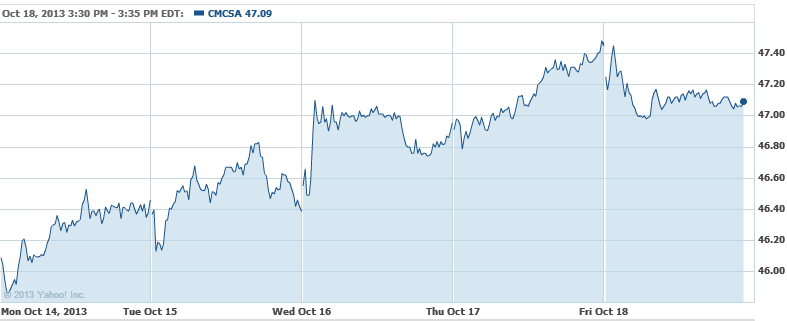 Don't Miss: 7 Films to Pay Attention to This Weekend.