3 Media Stocks in Focus: News Corp.'s Spinoff Tests Sum-of-Parts Theory, Disney Banks on Monsters, and Netflix Signs New Girl
News Corporation (NASDAQ:NWSA): Media analysts with both Lazard Capital and Deutsche Bank have initiated coverage of News Corp.'s spinoff 21st Century Fox (FOXA) with a Buy rating, while the sum-of-the-parts idea will be tested to see if the two companies can be worth more as separate entities. General Street consensus is that the growth potential and outlook for margins in the entertainment wing look more appealing than those of the new News Corp., though the latter's cash pile of $2.6 billion opens the doors for some M&A activity.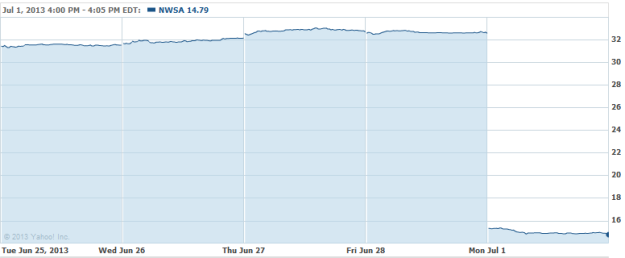 Disney (NYSE:DIS): Monsters University took the top slot at the box office this past weekend, with the Pixar flick raking in $46 million during its second weekend in theaters. The box office as a whole wasn't feeling the same success that Monsters enjoyed, as Sony's (NYSE:SNE) White House Down brought in a rather disappointing $25.7 million, but enough to give it third place. However, the low opening has seemingly inflicted a crucial wound for the movie's chances of breaking $100 million during the theater run.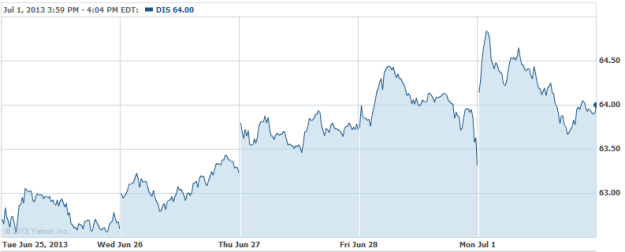 Netflix (NASDAQ:NFLX): Shares are ripping over 6 percent after an announcement of a multi-year deal with 21st Century Fox (FOXA) for the streaming rights to past seasons of New Girl, which is the top-ranked comedy for women between the ages of 18 and 34. However, it may have come at a high-six figure cost, though it has the potential to draw in new subscribers. Seeking Alpha also notes that it also increases the pressure on cable and satellite companies to box out Netflix on other exclusive deals in order to protect against cord-cutting.