3 Media Stocks in Focus: Outdoor Watches Bidding War, Dish's Expenses Rise, AOL Sees Needed Ad Growth
Outdoor Channel Holdings (NASDAQ:OUTD): Kroenke Sports Entertainment has raised its offer for Outdoor, from $9.35 per share in cash to $10.25, now placing a higher premium than InterMedia's $9.75 bid. Whopper Investments notes that Kroenke might be trying to draw InterMedia into coming back with a cash and stock deal at a far higher price, which Whopper estimates that InterMedia comes back in the low-mid $11 range with a 20 percent equity component.

Dish Network (NASDAQ:DISH): Subscriber-related expenses saw an increase, to the detriment of the company's profits for the first quarter. However, the company did add 654,000 gross new pay-TV subscribers, up from the first quarter of 2012, which saw 637,000. It also added 66,000 new broadband subscribers, well over the 6,000 additions in the year-ago period.

AOL (NYSE:AOL): AOL is picking up steam with advertisers, according to Wells Fargo which cited AOL's report of a 6 percent increase in Q1 over a 3 percent decline the quarter before. The firm isn't concerned about weakness at AOL Networks, as it thinks that display is a more important business for the company and has higher margins than networks. It rates the shares at Outperform.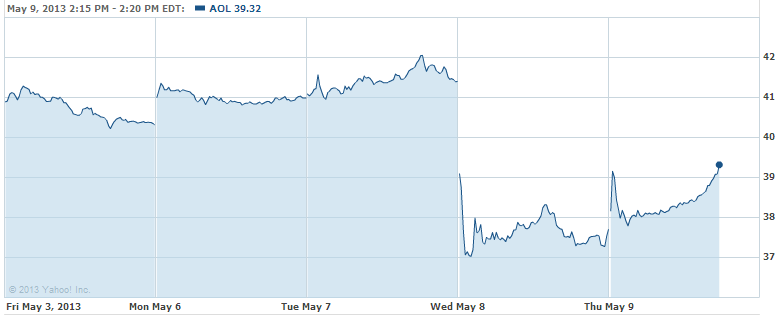 Investing Insights: Should CBS Be In Your Portfolio?