3 Media Stocks in Focus: The New York Times Co. Makes a Sale, Dish's Auction Plans, Disney's Largest Store Yet
The New York Times Co. (NYSE:NYT): The New York Times Co. has officially completed its sale of the Boston Globe and Worcester Telegraph to Boston Red Sox owner John Henry after a judge lifted a temporary block on the sale due to potential conflicts with an ongoing lawsuit. The all-cash deal for $70 million was completed after the The New York Times Co. agreed to allocate a portion of the sale proceeds to be used in a potential settlement of a lawsuit involving one of the properties being sold.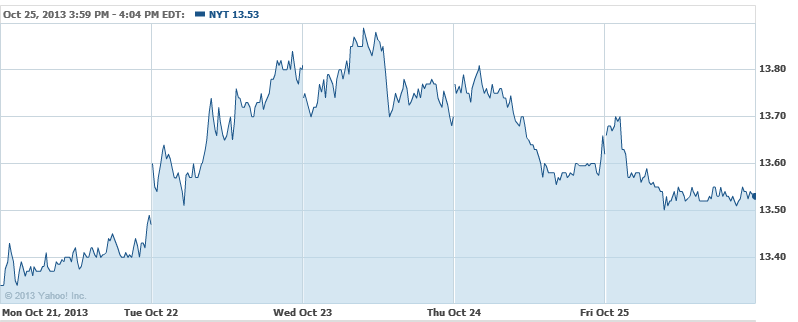 Dish Network Corp. (NASDAQ:DISH): Dish is promising to launch a successful auction of U.S. airwaves in January on the condition that the Federal Communications Commission will allow it to use the airwaves it already owns in different ways, in turn making them more valuable. The move could be one driven by Dish's desire to launch a wireless network to compete with the large telcos; Macquarie estimates that Dish could see $37 per share if wins the auction and can change the usage of the airwaves.

Walt Disney Co. (NYSE:DIS): Disney is planning a grand entrance into China with its largest store yet, to be constructed in Shanghai. Expected to encompass roughly 53,000 square feet, the store is meant to cater to China's rapidly growing middle class. "China's flagship Disney Store will feature the largest and most diverse collection of Disney products by local and international designers," Stanley Cheung, executive vice president and managing director of Disney China, said.
Investing Insights: Can Sirius XM Radio Continue to Rise?