3 Merger and Acquisitions Stock Stories Ready for a Thursday Appraisal
Marathon Oil Corp. (NYSE:MRO): Current price $34.08
Libya's Oil Minister Abdelbari Arusi says that his country's National Oil Corp is interested in acquiring Marathon Oil Corp's interest in one of the Libya's most important joint ventures. Marathon is mulling a possible sale of its stake in Waha Oil Company, which has a capacity of 350,000 barrels per day and produces Libya's primary light sweet crude grade, said sources to Reuters back in July. Commenting during a conference in London on Wednesday, Arusi said, "Regarding Marathon, yes, we're interested to buy the stake," as he confirmed Marathon was planning to divest its stake.

Accenture Plc. (NYSE:ACN): Current price $73.44
Accenture will purchase Procurian, an important provider of procurement business process solutions. The acquisition will further reinforce Accenture's capabilities in procurement business process outsourcing spanning a range of industries including consumer goods, high-tech, and financial services, and will contribute crucial analytics capabilities and technology assets. Accenture will pay $375 million in cash for Procurian, subject to certain adjustments at closing, including working capital, cash, debt and other items.

Aviva Plc (NYSE:AV): Current price $13.37
Aviva has obtained $800 million more than it initially anticipated from the divestiture of its United States division, acquired from an economic upturn, which gained traction while regulatory scrutiny delayed the deal's completion. The disposal forms part of a company-wide revamp after a shareholder rebellion in 2012 which lead to the exit of its then-chief executive subsequent to years of mounting costs and disappointing share price performance. Late on Wednesday, Aviva reported that it had finalized the sale of its United States life and annuities business Aviva USA Corp to Athene Holding Ltd., now listing its proceeds at $2.6 billion versus the $1.8 billion price announced in December.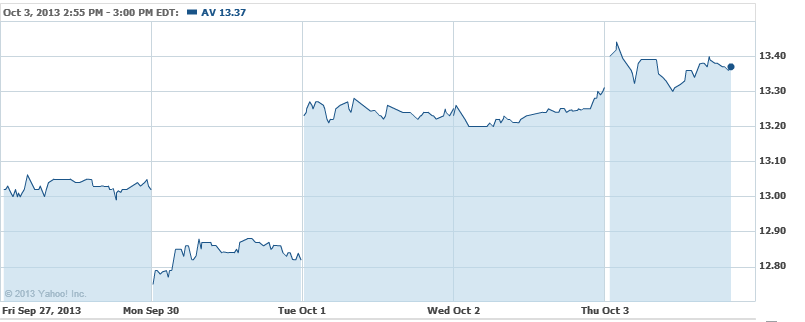 Investing Insights: Can Lululemon Break Out to New Highs This Year?