3 Merger and Acquisitions Stock Stories to Close the Trading Week
Yahoo! (NASDAQ:YHOO): Current price $26.54
A number of inside sources report that Yahoo! is in serious discussions with Tumblr through which to acquire the site. AllThingsD was first site to report on the talks between the parties. Adweek says that the deal is not yet completed, but might go as high as $1 billion, adding that Tumblr holds a catalyst potential over the engineering/Silicon Valley community, while "recapturing the imagination of advertisers, who have grown to view Yahoo as big but stale."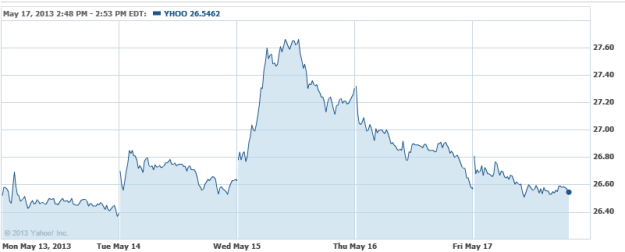 Walgreen Co. (NASDAQ:WAG); Current price $49.31
On Friday, the number-one drugstore chain in the United States, and Alliance Boots, an international pharmacy-led health and beauty group, said that they have gotten the required regulatory approvals for their equity investment in the pharmaceutical services firm AmerisourceBergen Corporation. The regulatory clearances allow both parties the purchase as much as 7 percent of the fully diluted equity of AmerisourceBergen in the open market, and the exercise of two warrants for 16 percent in total of the fully diluted equity of AmerisourceBergen in 2016 and 2017.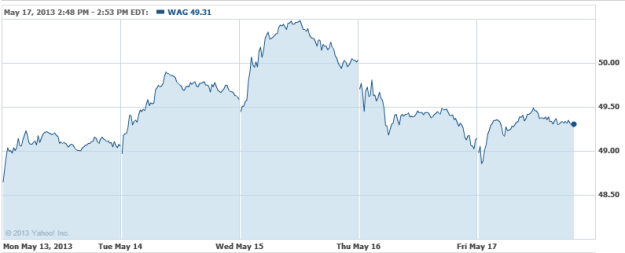 Freeport-McMoRan Copper & Gold (NYSE:FCX): Current price $32.61
Plains Exploration shareholders are preparing for Monday's vote on the Freeport-McMoRan's almost $6 billion takeover offer, as part of the latter's strategy to move into energy. Plains Exploration & Production's share price, which is now languishing below the bid price, implies that investors think that Freeport's current offer might prove insufficient. Analysts and investors forecast an ultra-thin margin regardless of which side carries the vote. However, Freeport's shares could move up whether Plains shareholders vote for or against the deal as it is now presented.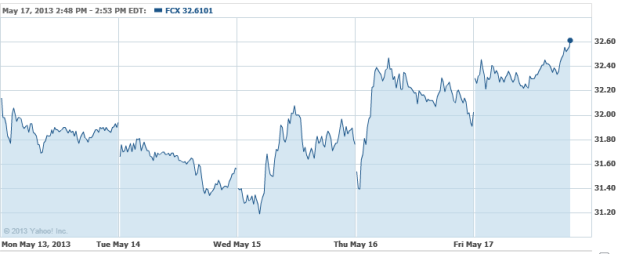 Investing Insights: Is Groupon On the Road to Recovery?