3 Mergers and Acquisitions Stock Stories Ready for Due Diligence
Monster Worldwide Inc. (NYSE:MWW): Current price $5.09
Monster Worldwide and private-equity company H&Q Korea announced Thursday that the latter will acquire 49.9 percent of the career website JobKorea, which is Monster's South Korean arm, for an total purchase price of $90 million. Monster will keep management control of the firm and leverage H&Q Korea's expertise and extensive Asian Pacific regional network to improve and grow the business.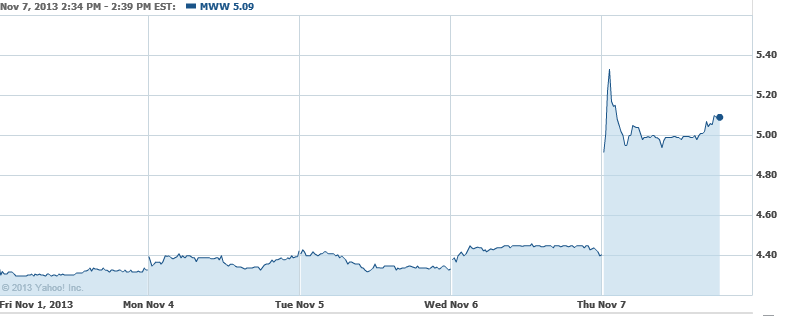 Toll Brothers Inc. (NYSE:TOL): Current price $33.17
Toll Brothers will purchase the home building division of privately held Shapell Industries Inc. for around $1.6 billion in cash in an agreement that will give the No. 1 domestic luxury homebuilder greater access to affluent real estate markets in California. The buyer will acquire Shapell's land portfolio, which is comprised of some 5,200 home sites, most of which are entitled, according to a company statement released late on Wednesday. Toll Brothers said that the land portfolio was assembled in several of California's most wealthy and high-growth markets like Orange County, the San Francisco Bay area, metro Los Angeles, and Carlsbad.
Telecom Italia S.p.A. (NYSE:TI): Current price $9.46
Sources told Reuters they believe that Spain's Telefonica is poised for an overhaul of Telecom Italia finances, including a probable cash injection of up to 2 billion euros, as it assumes more control over the group and looks at a sale of its Brazilian business, TIM, in 2014. Telecom Italia's board, an investment vehicle of which Telefonica will progressively take control, is set to meet Thursday to review cost-cutting, debt-reduction, and growth strategies.

Don't Miss: After Q3, Should Investors Worry About Whole Foods' Well-Being?