3 Mergers and Acquisitions Stock Stories Ready for Due Diligence
Safeway Inc. (NYSE:SWY): Current price $35.57
Harris-Teeter may not be the only supermarket that's acquired this year. Sources told Reuters that a handful of buyout companies, among them Cerberus Capital Management LP, are looking at a deal for all or part of supermarket chain Safeway Inc. in what could potentially turn out to be one of the biggest leveraged buyouts since the financial crisis. As the No. 2 American mainstream grocery store operator with a market value of more than $8 billion, Safeway is not currently conducting an auction, but it is aware of the buyout interest and is examining options with adviser Goldman Sachs Group, according to the sources.
General Electric Co. (NYSE:GE): Current price $
APR Energy announced a strategic alliance with General Electric, extending the reach of both firms in the growing fast-track turnkey power solutions space. Through the terms, GE will contribute its turbine rental business to APR Energy in return for cash and roughly 16.5 percent of APR Energy, making General Electric a key strategic investor in the company. Besides that, GE and APR Energy have reached a supply and services agreement that will continue to give support to current and future clients of APR Energy.

Alexion Pharmaceuticals Inc. (NASDAQ:ALXN): Current price $109.62
Roche CEO Severin Schwan said at a new conference in Paris on Wednesday that the Swiss drug maker would go where it could meet unmet medical needs, even for a very small number of patients. Schwan did not exclude a move into treatments for rare diseases, as there has been chatter that Roche might branch out into the lucrative area of rare or so-called orphan diseases after reports that it was mulling offers for two United States-based firms, Alexion Pharmaceuticals and BioMarin Pharmaceuticals.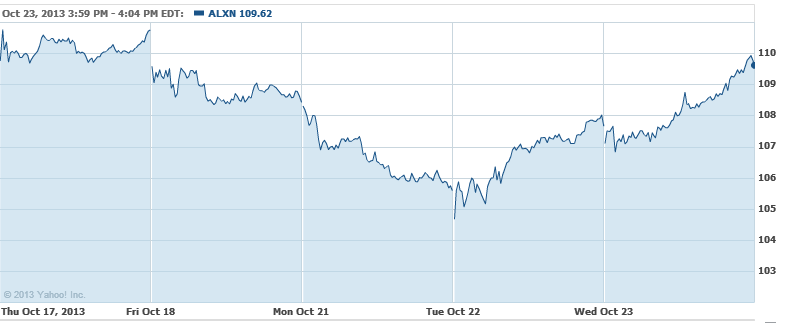 Don't Miss: Has Boeing Reached Cruising Altitude?