3 Microchip Stocks Making Market Moves
Intel Corp. (NASDAQ:INTC): Intel's shares are trading lower in the wake of an apparently uninspiring analyst day, as Bernstein and Goldman Sachs issue some negative commentary, though Jefferies boosts its price target to $32. "While keeping capex high to maintain its manufacturing edge, Intel is trying to offset declining sales of Core PC CPUs by ramping sales of Atom CPUs that often have far lower ASPs, and which some think could end up cannibalizing low-end Core sales," Seeking Alpha observes.
Broadcom Corp. (NASDAQ:BRCM): 4G-capable handsets for $100? Shouldn't be a problem, according to Broadcom. "Operators in the US are looking to buy 4G mobile phones for $100. They are not there yet but they are heading in that direction. 18 months time should be reasonable to achieve it," Broadcom's Mobile Senior Director (Mobile Platform Solutions) Michael Civiello said. While 4G phones run at speeds about five times faster than the earlier 3G networks, the units are still quite costly, the Times of India notes.

Qualcomm Corp. (NASDAQ:QCOM): Shares of Qualcomm closed higher today, as a bullish report via the Wall Street Journal says that despite the stock's 18 percent run up in the past four months, Qualcomm still has a ways to go, as research firm Gartner projects that global smartphone shipments will increase by an annual average of 20 percent over the next four years. "This will boost sales of Qualcomm's baseband chips," the Journal says, adding that, "Increasing demand for tablets has a similar effect, especially as more competing devices gain share against Apple's iPad."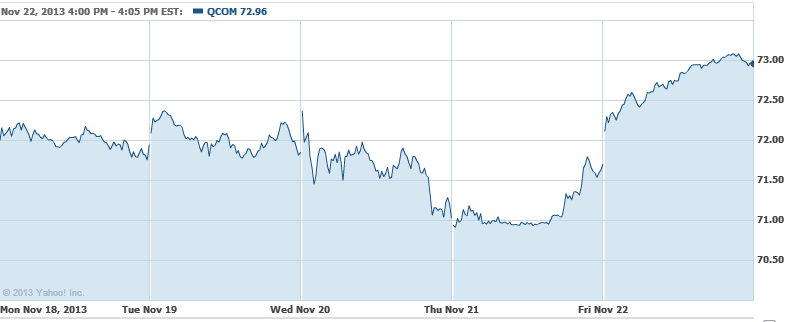 Investing Insights: Is Sony an Attractive Investment?