3 of the Worst Performing Stocks Owned By Hedge Funds
Buried in the pomp and circumstance that can sometimes dominate the conversation about hedge funds is this fact: more often than not, they underperform the market. Case in point: an index of hedge fund performance maintained by Credit Suisse shows that hedge funds returned 0.73 percent year-to-date and 5.27 percent on the year in April — over the same period, the S&P 500 returned 5.26 percent year-to-date and 13.5 percent on the year.
To be clear, this is not necessarily a criticism. Even the most well funded and managed hedge fund is not necessarily expected to beat the market, at least not strictly on a returns basis. Hedge funds are designed to produce risk-adjusted returns, meaning they tend to underperform a bull market and outperform a bear market. So returns for any given period may be lower, but thanks to hedging that growth is, ostensibly, much less risky. A strong risk-adjusted return is clearly something that investors are willing to pay for, and hedge funds excel at providing this service.
But it is not always by design that hedge funds underperform the market. Even savvy money managers are boundedly rational and make mistakes, and even exhaustive research could miss some key threat. The market can always turn against a position and investments can, and do, go bad.
These mistakes can be devastating. Many hedge funds not only use leverage, but they make sizable bets on individual companies. It is not uncommon for a hedge fund to push the weight of a favorite stock in its portfolio up to 6 or 7 percent. A dramatic decline in the price of the stock can have a significant impact on the performance of the fund at large.
This kind of thing happens all the time, and fortunately for us, Goldman Sachs not only collects data about which stocks hedge funds have piled into, but the firm publishes that information quarterly. The Wall Street Journal got its hands on that report and shared the data. Here's a breakdown of the three stocks that hedge funds have piled into but that have performed poorly year-to-date.
3. General Motors (NYSE:GE)
Factoring out any lingering bad mojo from the financial crisis, there is still not a lot to like about GM right now. At the top of the list is the recall of 2.56 million vehicles for a faulty ignition switch — an issue that proved to be fatal for at least 13 people but possibly more. GM was apparently aware of the issue as long ago as 2004, but failed to address it until recently, which has attracted ire from investors, consumers, and regulators. The car manufacturer is currently facing at least 79 individual lawsuits related to the recalls and is facing liability of up to $10 billion. This year-to-date, GM has recalled over 13 million vehicles, more cars than it sold over the past five years in the U.S.
For better or worse, hedge funds are flush with the stock. According to the Goldman report, 45 hedge funds have GM as a top 10 holding with an average portfolio weight of 6 percent for the stock. All told, according to Nasdaq, 71 percent of GM stock is owned by institutional investors.
Shares of GM were down nearly 18 percent year-to-date and down about 1 percent year over year as of May 23.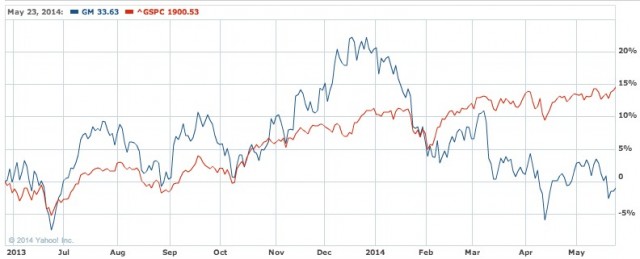 2. Yahoo (NASDAQ:YHOO)
Despite Yahoo's poor year-to-date performance, there is actually a lot to like about the tech and Internet company as we roll toward the end of the second-quarter. For starters, back in April the company reported first-quarter results that beat analyst expectations. Revenue of $1.13 billion, down 1 percent on the year, beat the mean analyst estimate of $1.08 billion, and revenue excluding traffic acquisition costs (TAC) increased 1 percent to $1.09 billion. Adjusted net earnings of 38 cents per share were flat on the year and beat the mean analyst estimate by a penny. CEO Marissa Mayer highlighted strong mobile numbers — 430 million monthly active users for Yahoo products — as a source of optimism, and analysts are expecting top and bottom-line growth in the second quarter.
But even though the results were better-than-expected by analysts, they still weren't quite good enough to instil lasting confidence in investors. Shares were down about 11.5 percent this year through May 23 despite expectations for modest growth in the current quarter. Even anticipation of a cash windfall from the IPO of Alibaba hasn't been enough to revitalize Yahoo's stock price.
According to the Goldman report, 15 hedge funds had Yahoo as a top 10 holding with an average weight of 8 percent.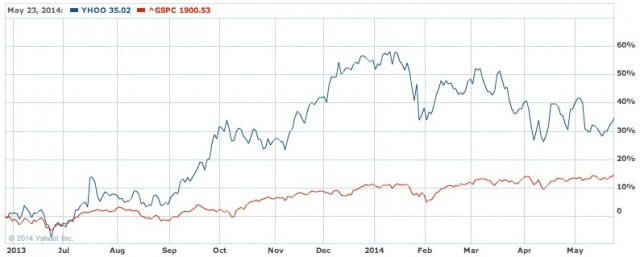 1. Amazon (NASDAQ:AMZN)
One of the biggest concerns with Amazon right now is that its stock is in bubble territory. Shares of the tech company were trading at more than 480 times trailing 12-month earnings as of May 23. This incredible valuation is theoretically justified by the company's enormous earnings potential, but many investors are unconvinced the stock is worth the price.
The company's aggressive expansion and its commanding position in e-commerce are attractive, and Amazon threatens to generate enormous profits if it could only settle its position, but Amazon appears to be more interested in growing its business than its bottom line. This could pay off in the long run, but in the short run it's left a lot of investors nervous about that triple-digit PE.
According to the Goldman report, 21 hedge funds had Amazon as a top 10 holding with an average weight of 5 percent.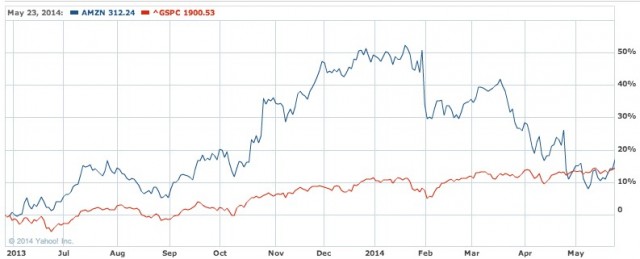 More From Wall St. Cheat Sheet: