3 Signs of Hope for the Student Debt Bubble
The student debt bubble continues to grow larger and more dangerous each school year. With the amount of outstanding student loans now totaling about $1 trillion, college debt dwarfs credit card balances. However, there may be some glimmers of hope on the horizon.
1. Delinquent Loans
Attending college often comes with a steep price tag, and many students rely on loans to fund their educations. According to a recent study by Fidelity Investments, 70 percent of recent graduates have college debt, with the average amount owed coming in at $35,000. Meanwhile, FICO reports that the number of people with student loan debt in excess of $100,000 has quadrupled over the past 7 years.
The first major sign of hope is recognizing that a problem exists, so significant changes can eventually take place. A sluggish job market has shined a spotlight on the heavy debt burden facing graduates. In the first quarter, the number of borrowers who had fallen behind on their student debt by at least 90 days stood at 11.2 percent, the second-highest delinquency rate on record. Prior to the financial crisis, the average student loan delinquency rate averaged roughly 7 percent.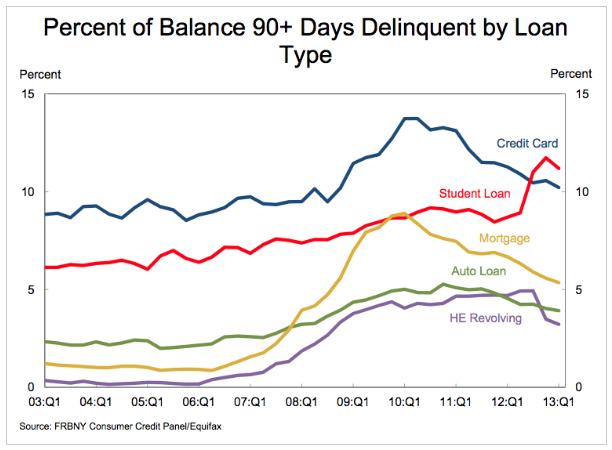 Interestingly, the delinquency rates on student loans are likely even higher than reported. In the fine print of a previous report, the Federal Reserve explains: "These delinquency rates for student loans are likely to understate actual delinquency rates because almost half of these loans are currently in deferment, in grace periods, or in forbearance, and therefore temporarily not in the repayment cycle. This implies that among loans in the repayment cycle delinquency rates are roughly twice as high."
2. Side Effects Being Felt
Major financial institutions are starting to recognize the consequences of handing out student loans like candy.
In only the first two months of 2013, banks declared $3 billion of student loan debt as noncollectable, according to Equifax's latest National Consumer Credit Trends Report. This represents a 36 percent surge from the same period last year.
"Driven heavily by economic factors, including unemployed or under-employed consumers going back to school along with the rising cost of tuition, student lending has demonstrated consistent, year-over-year growth," said Equifax Chief Economist Amy Crews Cutts. "Continued weakness in labor markets is limiting work options once people graduate or quit their programs, leading to a steady rise in delinquencies and loan write-offs."
Sallie Mae, the largest non-government student lender, was recently forced to cancel a $225 million bond offering after two weeks on the market, according to people familiar with the deal and The Wall Street Journal. The lender was reportedly trying to sell the bonds with a 3.5 percent coupon, in a deal led by Bank of America (NYSE:BAC). Bonds based on student loans are quite popular. Sallie Mae and other issuers of the securities have sold almost $8 billion worth of bonds year-to-date, compared to only $5.7 billion in the same period last year, according to Bank of America. However, investors and students both have their limits.
3. Tuition Rates
Although the price of tuition has soared 1,120 percent over the past 35 years, some colleges are starting to grasp the concept that students cannot keep up with the over-inflated price hikes.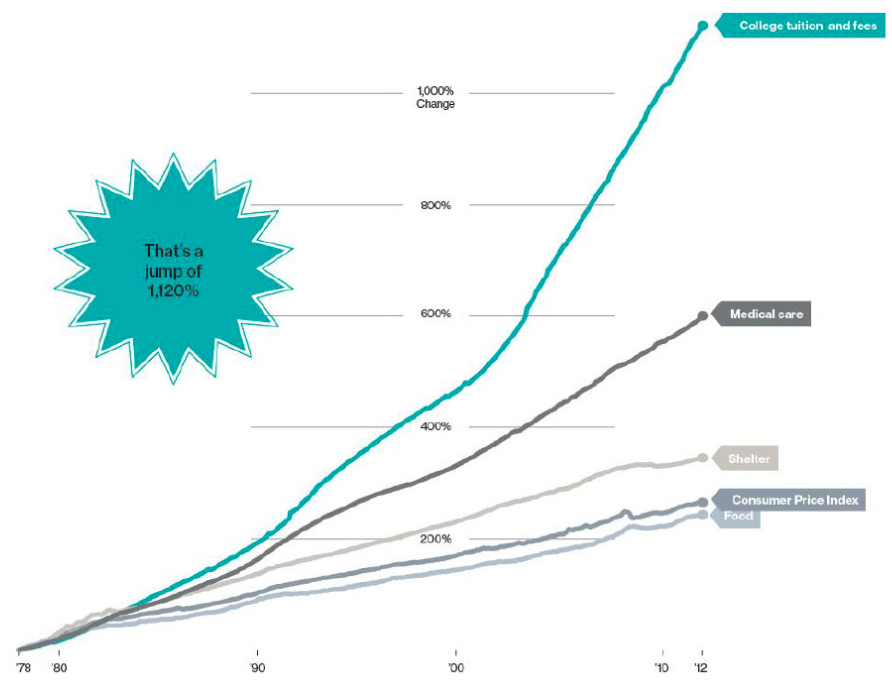 DeVry University (NYSE:DV), one of the largest private-sector universities in North America, recently announced it is freezing tuition rates for the coming school year. The president of the school cited "continued economic challenges facing our country" as the main reason for doing so.
Even better, Georgia Institute of Technology is working with AT&T (NYSE:T) and Udacity to offer an online Master's Degree in Computer Science for $7,000, down 80 percent from the usual $40,000 price tag attached to the on-campus program. While this is just one school offering a dramatic price cut, it signals hope that a free market may one day emerge in education. Just imagine a future in which colleges compete for customers based on quality and price, instead of campuses that make most country clubs jealous.
Don't Miss: How Badly Does America Need to Improve Its Financial Literacy?
Follow Eric on Twitter (@Mr_Eric_WSCS)