3 Signs We're Not in a Stock Bubble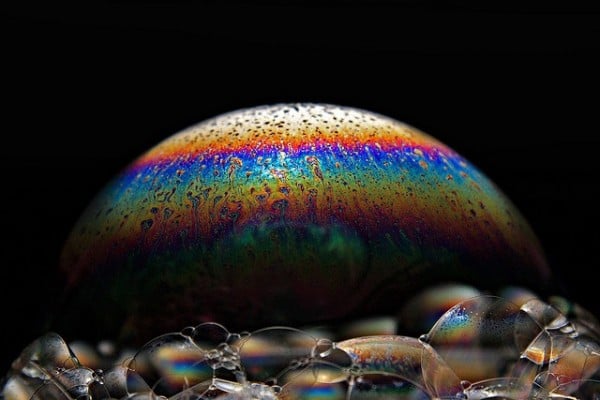 After five years of record low interest rates and quantitative easing, the stock market is the talk of the town once again with all three major indices defying expectations this year. In fact, the current bull market is often considered to be the most-hated rally in history. The recent rise has ignited concerns of another bubble, but signs indicate that stocks still have significant room to the upside.
On the surface, it's easy to understand why investors are growing cautious. Through the first 11 months of 2013, the Dow Jones Industrial Average and S&P 500 gained 23 percent and 27 percent, respectively. The Dow set 44 all time closing highs in 2013 through November, while the S&P 500 made 38 record highs. The Nasdaq, which is still below its dotcom-bubble peak, crossed above 4,000 in November for the first time in over 13 years.
Furthermore, several well-known investors have voiced concerns recently. Billionaire activist investor Carl Icahn noted he was cautious on stocks and even claimed the market could have a big drop. Pimco's Bill Gross went further and said "all markets are bubbly" last month. However, there are two sides to a market: buyers and sellers. Let's take a look at why stocks are not in another bubble, yet.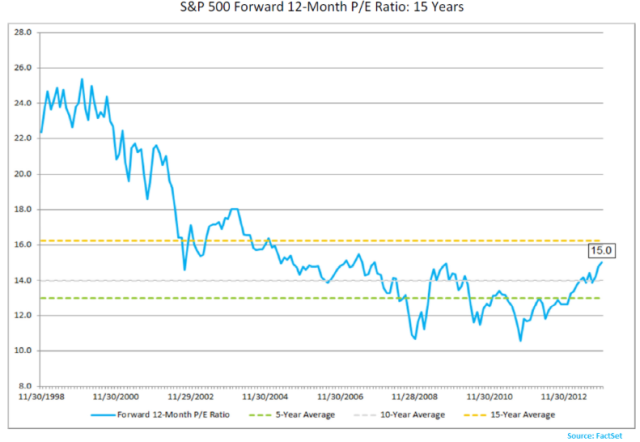 1. Valuations
Speaking before the Senate Banking Committee, incoming Fed Chair Janet Yellen was asked about the strong rally. "Stocks prices have risen pretty robustly, but I think that if you look at traditional valuation measures, you would not see stock prices in territory that suggests bubble-like conditions," she said.
While some of the biggest names in finance disagree with Yellen, there is evidence to support her claim. Stocks in the U.S. trade for about 2.5 times book value and 16.5 times trailing earnings, according to BlackRock. In comparison, the past three market peaks made in 1987, 2000, and 2007 posted price-to-earnings ratios of 23, 30, and 17.5, respectively. The price-to-book ratio peaked at almost 5 in 2000 and 3 in 2007. Valuations are no longer cheap today, but they don't appear to be obvious bubbles either.
The forward 12-month price-to-earnings ratio also looks non-bubblious, as it currently stands at about 15. According to FactSet, that is the highest forward ratio posted by the S&P 500 in more than four years, but still below the 15-year average of 16.2, and not even close to the ratio of 25 recorded during the dotcom bubble. As the chart above shows, the forward price-to-earnings ratio appears to be correcting from extreme levels.

2. Previous Rallies
Considering the psychological milestones reached by the Dow Jones Industrial Average (16,000) and the S&P 500 (1,800), it might appear that the current rally is one of the greatest on the record books. However, that is far from being the case. As the charts above show, the Dow rally that started March 2009 is below average in both duration and magnitude. The S&P 500's rally is also neither stronger or longer than the long-term average.
Speaking about stocks at his former grade school in Omaha, Nebraska, Warren Buffett said: "I would say that they're in a zone of reasonableness. Five years ago, I wrote an article for the New York Times that said they were very cheap. And every now and then, you can see that that they're very overpriced or very underpriced. Most of the time, they're in an area where maybe they're a little high, a little low, and nobody really knows exactly. They're definitely not way overpriced. They're definitely not underpriced."

3. Historical Trends
Despite what it may feel like, the returns experienced this year are not that rare. Looking at 116 years of stock returns of the Dow and S&P 500, 20 years posted gains of 20 to 30 percent, while another 14 years witnessed increases of more than 30 percent, according to 361 Capital. That means about 1 in 3 years the stock market has been up at least 20 percent. Since 2009 was the most recent year to fall into this category, Mr. Market is simply receiving his dues.
Interestingly, the strong gains in 2013 does not necessarily spell trouble for next year. The S&P 500 has averaged a return of 12 percent following a year in which it was up 25 to 30 percent, according to LPL Financial Research. In fact, most of the years were followed by several years of strong gains, as seen in 1943, 2003, and 2009.
Here's how the major U.S. equity indices traded on Friday:

Don't Miss: A Year to Remember for Gold Investors
Follow Eric on Twitter @Mr_Eric_WSCS