3 Stocks for the Upcoming Tourist Season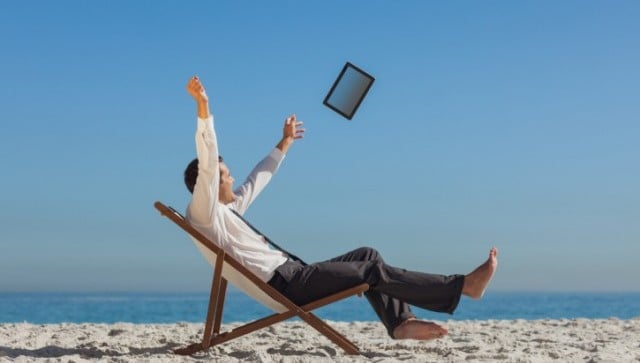 As millions of Americans prepare for a summer getaway, investors may want to position their portfolios for tourist season. A new survey reveals that consumers are not staying home this summer and are ready to spend more money on vacations this year.
Economic worries are not stifling travel plans. Approximately 75 percent of Americans will enjoy a summer getaway in the coming months, up from 69 percent in 2013 and 59 percent in 2012, according to American Express. Seventy percent plan to explore the United States, while 17 percent will take a trip overseas. Thirteen percent plan to do both. Although consumers still seek value from their summer trips, spending is expected to rise 9 percent year-over-year to $1,246 per person.
"After a long and harsh winter, more Americans are pledging to hit the road this summer," said Claire Bennett, executive vice president at American Express Travel, in a press release. "Travelers are doing their homework and taking more time to plan their trips, ensuring they get the best deal possible without sacrificing those little extras that make their trips special." The average summer traveler is expected to take three weekend trips.
Let's take a look at three stocks that are looking forward to the summertime.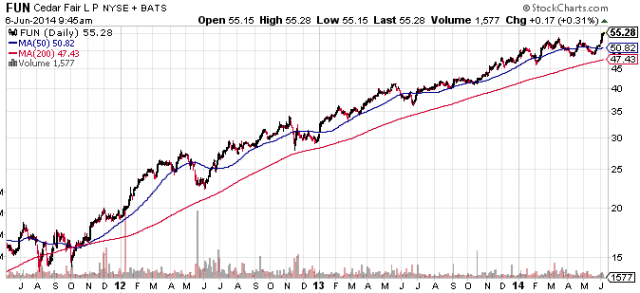 1. Cedar Fair (NYSE:FUN)
Cedar Fair is a publicly traded partnership and one of the largest regional amusement-resort operators in the world. The company owns and operates eleven amusement parks, three outdoor water parks, one indoor water park, and five hotels. Its Cedar Point park in Ohio is consistently voted "Best Amusement Park in the World."
Early indications point toward a strong summer for Cedar Fair. "Comparable-park net revenues through April are up approximately $7 million over the same four-month period last year," said Matt Ouimet, chief executive officer, in the company's first-quarter earnings release. "We have experienced strength in all aspects of our business, including early-season pass sales and group event bookings. At the parks that have been operating, attendance and in-park guest per capita spending are also trending higher than this time last year." The company expects a record performance this year for the fifth consecutive year.
Shares of Cedar Fair are up more than 11 percent this year, and have nearly tripled over the past three years as people continue to visit amusement parks. Shares also have a dividend yield of 5.1 percent for investors looking for a steady income stream.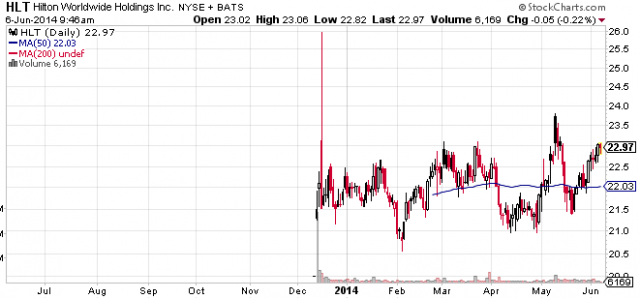 2. Hilton Worldwide Holdings (NYSE:HLT)
This investing thesis is simple: people need a place to sleep when traveling. Founded in 1919, Hilton is one of the largest hospitality companies in the world, and is currently growing at its fastest pace in history. Hilton has nearly 700,000 hotel rooms across 24 time zones and 4,100 hotels. You can find a Hilton in world capitals, rural roadsides, trade centers, vacation destinations, and everywhere in between. During the first quarter, the company approved 15,000 new rooms for development, leading the industry.
"We continue to increase the global presence of our industry-leading brands, with over 9,000 new rooms opening during the first quarter. We remain number one in rooms under construction in every major region of the world, with over an 18 percent share of all rooms under construction globally. At the end of the first quarter, we had 510 hotels and 101,000 rooms under construction that will further grow our system," said Hilton CEO Christopher J. Nassetta.
Shares of Hilton are relatively new to investors. Hilton went public last December at $20 per share – raising $2.35 billion. Currently, shares trade near $23. Hilton could easily climb higher in the coming months as the hotel industry is on pace for its best year since 2000.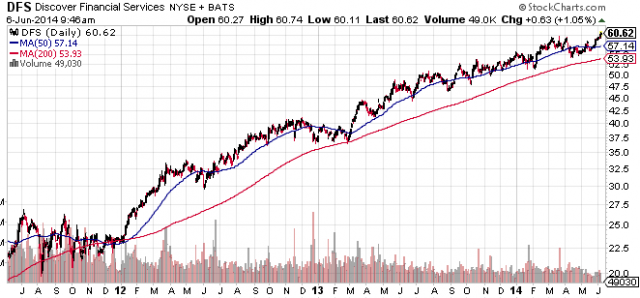 3. Discover Financial Services (NYSE:DFS)
Tourists will need a way to pay for their summer travel plans. Since we live in a near cashless society, credit card companies can be an attractive investment. Discover is a direct banking and payment services company. Since its inception in 1986, Discover has become one of the largest card issuers in the United States, and one of the most recognized brands in the financial industry. Discover is known by consumer for its rewards program, and more recently its free credit scores.
In April, Discover announced a new $3.2 billion share repurchase program and increased its dividend from 20 cents to 24 cents per share. The new share repurchase program expires on April 15, 2016, and may be terminated at any time. It replaced the prior $2.4 billion share repurchase program. Discover also shares the top spot in the credit card category this year on the 2014 Brand Keys Customer Loyalty Engagement Index — a survey of 32,000 consumers. Discover has held or shared the top Brand Keys ranking in its category for the past eighteen consecutive years.
Shares of Discover are up about 7 percent this year, and have surged 163 percent over the past three years.
More From Wall St. Cheat Sheet:
Follow Eric on Twitter @Mr_Eric_WSCS