3 Stocks Sinking the Dow After Government Shutdown Ends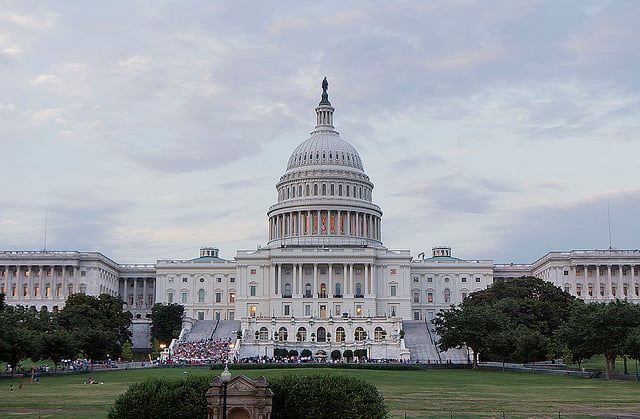 After more than two weeks of intense political rhetoric over the fiscal condition of the United States, Congress was finally able to end the partial government shutdown and suspend the debt ceiling. The move provides a small amount of certainty for investors, but the most nation's most watched stock index traded lower as earnings season heats up.
Late Wednesday, the Senate approved a bill with a vote of 81-18 to reopen the government through January 15, and allow the Treasury Department to borrow funds through February 7. Shortly thereafter, the House of Representatives passed the bill with a vote of 285-144. Only 87 Republicans voted in favor of the deal, while 144 opposed it. At 16 days, the shutdown ranks as the third longest in American history.
After the Senate's vote, President Obama said, "Tonight, the Republicans and Democrats in Congress have come together around an agreement that will reopen our government and remove the threat of default from our economy. We'll begin reopening our government immediately, and we can begin to lift this cloud of uncertainty and unease from our businesses and from the American people." Despite the slight progress made in Washington, D.C., the Dow Jones Industrial Average dropped nearly 100 points. Here's a look at three blue-chips dragging on the Dow Jones Industrial Average.
3. UnitedHealth Group (NYSE:UNH)
The diversified health and well-being company is one of the biggest weighted components in the Dow, which is weighted by stock price. UnitedHealth Group reported quarterly earnings of $1.53 per share, inline with estimates and slightly higher than $1.50 per share a year earlier. However, revenue of $30.6 billion for the quarter missed estimates calling for $30.8 billion. UnitedHealth Group also narrowed its outlook for the year that disappointed analysts. Shares of UnitedHealth Group dropped more than 4 percent after the report.

2. Goldman Sachs (NYSE:GS)
The investment bank is the third largest weighted member of the Dow. Goldman Sachs reported quarterly earnings of $2.88 per share, only 3 cents higher than a year earlier. Revenue for the third quarter plunged 20 percent year-over-year to $6.72 billion, well below the $7.36 billion expected by Wall Street. Shares of Goldman Sachs fell 2.5 percent after the report.
"The third quarter's results reflected a period of slow client activity," said Lloyd C. Blankfein, chairman and chief executive officer, Goldman Sachs. "Still, we saw various signs that our clients are prepared to act on significant transactions and we believe that the firm is well positioned to help our clients accomplish their objectives. As longer term U.S. budget issues are resolved, we could see an improvement in corporate and investor sentiment that would help lay the basis for a more sustained recovery."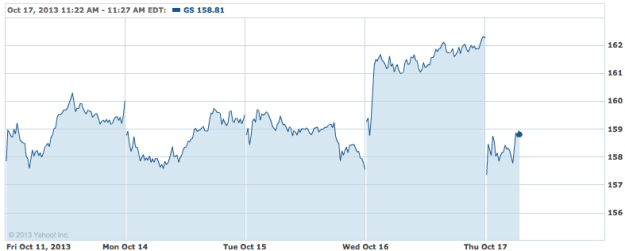 1. International Business Machines (NYSE:IBM)
The world's largest technology-services company is the second largest weighted member of the Dow, behind only Visa (NYSE:V). IBM reported better-than-expected quarterly earnings of $3.99 per share. However, revenue for the quarter fell 4 percent to $23.72 billion, compared to $24.75 billion a year earlier. Analysts expected IBM to post revenue of $24.75 billion. Shares of IBM plunged about 6 percent after the report, hitting their worst level in two years.
"In the third quarter we continued to expand operating margins and increased earnings per share, but fell short on revenue. Where we had identified high growth opportunities and pursued them aggressively — cloud, mobile, business analytics, and security — we continued to show strong growth. This underscores our strategy to continuously transform the company to high value," said Ginni Rometty, IBM CEO, chairman, and president.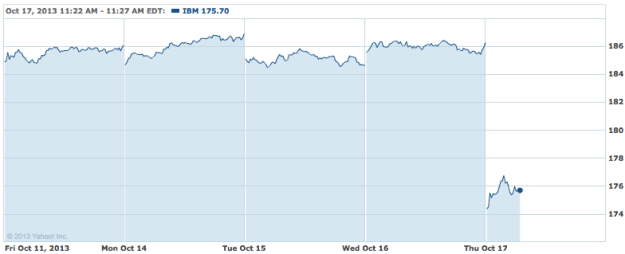 Don't Miss: David Einhorn: Apple Is Still a Winner
Follow Eric on Twitter @Mr_Eric_WSCS